Battle of the Damned
(2013)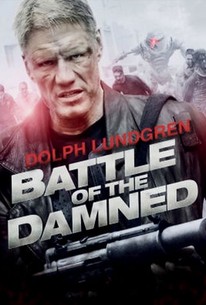 AUDIENCE SCORE
Critic Consensus: No consensus yet.
Battle of the Damned Photos
Movie Info
When a deadly virus is accidentally released into a major city, its population is quarantined by military blockade. And for a wealthy industrialist desperate to rescue his daughter from inside the rabid chaos, his only hope is former commando Max Gatling (Lundgren). Now Gatling has one day to bust in, blast through hordes of the undead, find the girl, and hunt for a way to get them both out alive. But will a small band of survivors and an army of killer robots turn his mission into maximum slaughter?
Critic Reviews for Battle of the Damned
All Critics (3) | Fresh (1) | Rotten (2)
Like an updated version of "Escape From New York," except with zombies, and robots, and Dolph Lundgren. For a time the movie is exactly as much ridiculous fun as that sounds. But only for a time.
Battle of the Damned is far from a classic, but if you are in the mood to see fast zombies up against faster feet, fists and firearms, it certainly fills the bill with energy and some panache.
One of the first among many plot holes you will wonder about is how Gatling is a military rank despite clearly being a mercenary. Does he have a backstory?
Audience Reviews for Battle of the Damned
An instant classic that has it all for action fans. It has zombies, robots, bullets, blood and pure wicked fun from start to finish. A wickedly entertaining and intense action shocker that's just spectacular enjoyment. A totally bad-ass and awesome movie. It's one of the most wild and simply one of the best movies of Dolph Lundgren's career. An action-packed chiller that will keep you on the edge of your seat. Lundgren is terrific, he plays a great character and tackling a new genre that he is clearly having a blast in. Director, Christopher Hatton crafts one of the most original and entertaining genre movies of the year. A pure blast.
Battle of the Damned Quotes
There are no approved quotes yet for this movie.