Battle Royale II
(2003)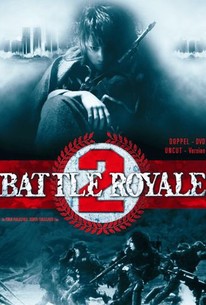 Movie Info
It's been three years since Shuya Nanahara survived the first Battle Royale along with Noriko Nakagawa. Now they must organize a group of young terrorists to attack Tokyo and crush the regime that tried to destroy them.
Critic Reviews for Battle Royale II
Audience Reviews for Battle Royale II
This film had the potential of being a great, memorable follow-up to Battle Royale.Instead it's a mess, one that is boring, poorly constructed and has a poor cast. The idea for this sequel was interesting, but the execution was poor, and offers nothing to appeal to fans of the first film. Battle Royale 2 just doesn't have anything going for it to make for a worthwhile viewing. If you're expected a great sequel, you'll be sadly disappointed as it is a tiresome, uninspired sequel to a great film. The original should have been a standalone film. The film could have been better than it turned out to be because it had as good idea, but the script and subsequent execution failed to deliver an accomplished sequel that would match the original. Unfortunately, this film fails and ends up missing the mark. I really was disappointed in the result and I felt it could have been much better than this. The aspect of the film that really doesn't do it justice, and brings it down significantly is that it tries to accomplish too much in two hours. Thus the plot is unfocused, there are too many things going on at once, and you lose interest in the film. Battle Royale 2 is a mediocre sequel, and could have been much better than what it turned out to be. If you watch this, don't expect much out of it, as it is a mess from start to finish and really doesn't offer anything to appeal film fans. This sequel is simply put a missed opportunity to follow up a great film and considering the idea of children rebelling against the adults, I'm surprised they weren't able to deliver anything better. A really shame and Battle Royale 2 is not worth checking out. Stick with the first film.
½
"Imagine the stirring sight of 42 youthful, passionate deaths!" How do you squander all the good things the original Battle Royale had going for it? By replacing the brutality and intimacy of it with long, monotonous firefights and empty political rhetoric. That's what Battle Royale II: Requiem does, and as a result, it's a shell of the first movie. I can understand the desire to move the overall story forward and not make the sequel a mere retread of the original, but this wasn't the way to do it. The new characters are almost universally unmemorable, compared to the several in the first movie that stuck in my mind after the very first viewing. The plot attempts to interject "big ideas" into the narrative, but instead makes the whole film tiresome, incoherent, and almost impossible to maintain interest in. The pacing is terrible, with long stretches where nothing happens, followed by long stretches where faceless soldiers endlessly fire across a room at characters you don't care about. In short, Battle Royale II can (and should) be skipped. It's not even worth seeing to find out the fates of the surviving characters from the first movie. Just watch Battle Royale again and pretend that's the end of it all.
Started off well but the main character with blonde hair was incredibly annoying with his constant bulging eyes and shaking in anger. It was far too long, far too many SFX shots and so many false endings. Half way through it could have finished. It was too much of a coincidence that the two men survived at the end and just simply a total mash up of the original. The bigger budget certainly has not worked to its advantage.
Sophie Burgess
Super Reviewer
Battle Royale II Quotes
There are no approved quotes yet for this movie.