Battlestar Galactica: Blood & Chrome
(2013)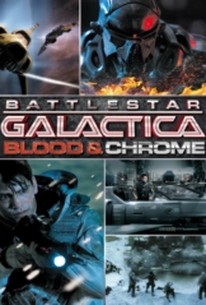 AUDIENCE SCORE
Critic Consensus: No consensus yet.
Battlestar Galactica: Blood & Chrome Photos
Movie Info
An all-new, unrated chapter in the Battlestar Galactica saga, Blood & Chrome takes place in the midst of the first Cylon war. As the battle between humans and their creation, the sentient robotic Cylons, rages across the 12 colonial worlds, a young, talented fighter pilot, William Adama (Luke Pasqualino, The Borgias), finds himself assigned to one of the most powerful battlestars in the Colonial fleet: the Galactica. Though Adama quickly finds himself at odds with his co-pilot, the battle-weary officer Coker (Ben Cotton, Alcatraz), the two men must set their differences aside when a routine escort mission with an enigmatic passenger (Lili Bordán, Silent Witness) turns dangerous and becomes a pivotal one for the desperate fleet.
Critic Reviews for Battlestar Galactica: Blood & Chrome
All Critics (1) | Fresh (1) | Rotten (0) | DVD (1)
Cheap, quick genre fare. That isn't to say it's bad, but it won't blow anyone away. This is best for diehard BSG fans, or just in the mood for an entertaining, throwaway sci-fi romp.
Audience Reviews for Battlestar Galactica: Blood & Chrome
½
Battlestar Galactica: Blood & Chrome is a poorly made sci-fi film that adds absolutely nothing to the series. The story follows a young Bill Adama during the First Cylon War as he embarks on a secret mission to transport a scientist who has critical information about the Cylons. The acting is awful and is almost unbearable to watch. The writing is also really poor; jumping around from scene to scene without much of a through-line holding it together. And the CGI is hit and miss; as some scenes are extremely good and others are terrible. Still, the film delivers some exciting action and tries to say something about the gritty reality of war. Incredibly disappointing, Battlestar Galactica: Blood & Chrome is a half-assed effort that fails to live up of the vision of Ronald D. Moore's reimagined series.
Dann Michalski
Super Reviewer
½
Much of the production team from the incredible Battlestar Galactica series - executive producers, writers, visual effects supervisor, composer - are on hand to bring this lavish, adrenaline-fueled movie set 10 years into the first Cylon War. Conspicuously absent though is the man who gave the show its true heart & soul, Ronald D. Moore. The followup Caprica series was not as well received by fans for its cerebral storytelling, so they went in the opposite direction with Blood and Chrome - this thing is almost all action. There are some dazzling sequences but some are too cluttered and chaotic. I never had trouble following the docu-style shaky cams during the series, but this new director doesn't possess the same skill level with the technique. I also tend to think they used a new effects studio as some of them weren't nearly as special as what we saw in the series. The sheer volume of effects sequences possibly required some cost-cutting measures. Another problem is the portrayal of Bill Adama as a young cadet who is an asshole right out of the box. I suppose they want to show his growth in maturity from a reckless hotshot, providing a Blood and Chrome series is on the way, but they went too far in creating a character who is by and large incongruous with the older Adama. I started to think of him as Chad Adama, Bill's misfit brother, and it worked much better. I liked much of the rest of he cast though, particularly Ben Cotton as raptor co-pilot Coker. All in all, it was great donning a flightsuit and manning a Viper once again, and the first sight of the Galactica brought a lump to the throat proving that there are many stories left worth exploring in the BSG universe.
Doctor Strangeblog
Super Reviewer
The latest offering in the Battlestar Galactica saga is a William Adama origin story that tells of his first mission flying as a pilot for the colonial fleet. The reason the reboot of Battlestar Galactica worked so well was because of its adult themes, sophisticated characterisation and involving story arcs, performed by a cast of very talented actors. What we have in Blood & Chrome is none of these things. It's essentially a rather amateurish version of Top Gun in space featuring Luke Pasqualino (who is more Wesley Crusher than William Adama) earnestly "doing the right thing" in front of an unconvincing green screen. Even the cylons don't look like cylons, instead resembling a cross between a terminator and a transformer. I can only assume that this substandard, humourless clone of a mediocre episode of Stargate SG-1 was intended to hook a younger (and stupider) audience than the original series because aside from some of the spaceships, it has nothing at all in common with it.
Battlestar Galactica: Blood & Chrome Quotes
There are no approved quotes yet for this movie.