Baxter
(1990)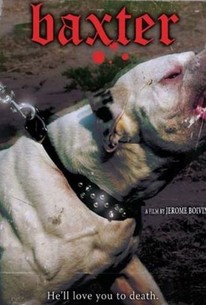 Movie Info
The French-filmed Baxter is based on the American novel Hell Hound. The title character is a bull terrier, who in the course of the film has many masters--and for good reason. Baxter has been instrumental in the deaths or serious injuries of most of the human beings who've come in contact with him. The dog's latest owner is a young neo-Nazi. nd Baxter makes it quite clear (to the audience at least) what he has in store for this fellow. Don't be misled by the title or the fact that the leading character is a dog with a full range of human emotions; Baxter is not a family film.
Critic Reviews for Baxter
Audience Reviews for Baxter
½
A bizarre film chronicling the life and death of a bull terrier who seeks to find the perfect owner. Baxter is a coming of age film for a dog with some really disturbing elements, I wouldn't consider it as a black comedy, just a dark satire of fascism. It's a fascinating film about the comparison of human nature and animalistic instinct.
Sylvester Kuo
Super Reviewer
delayed seeing this b/c it looked gimmicky (a cross btw Look Who's Talking 3 and Henry:Portrait of a Serial Killer) and trivializing of Nazism; but the dog's monologues play a supporting role to the ordinary traumas of the human characters, which include old people who let themselves go, the middle-aged people who experience disappointments in love and family life, and a desensitized kid who fixates on Hitler's mass-destructive suicide as an alternative to complete coldness; the colors and light are perfect and the the movie never becomes bleak or fatalistic; it ends up an interesting commentary on the constant temptation of nihilism, and fascism as one response to the temptation; Baxter is trapped by his nature, and the movie produces a sympathy for that more than for the child sociopath, who makes choice after choice to hate, worship force and cause pain One charming thing is that the dog's dialogue plays at the edge of realism in paraphrasing what a dog feels and can revisit in memory -- granted, at the end he starts meditating on death and the change of seasons.
Adam Mahler
Super Reviewer
½
Baxter is a bit of a K-9 sociopath. But the film is shot in such a way that you really feel like he's a "troubled youth" going from one 'foster home' to the next. No one every really knowing the 'real' baxter. Ultimately it is a very moving tale of 'the human conditon' through the eyes of a dog. Another very human lesson learned here (the hard way) is that sometimes the thing that we think we want/need most...might not actually be the thing that fullfills us, or makes feel whole.
Baxter Quotes
There are no approved quotes yet for this movie.