Reazione a catena (A Bay of Blood) (Twitch of the Death Nerve)
(1972)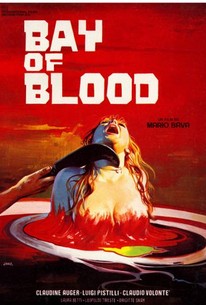 Reazione a catena (A Bay of Blood) (Twitch of the Death Nerve) Photos
Movie Info
This Italian shockerama was originally released as Twitch of the Death Nerve in 1971. When distributed to the US, it picked up yet another title, Last House on the Left Part II. In fact, it has nothing whatever to do with the original Last House on the Left, those this may be the film's only nod to originality. The slasher "hero" in this one sets about to kill a baker's dozen worth of victims-13 in all, to those of you who aren't bakers. Though he goes through familiar paces, goremaster Mario Bava manages to pull off quite a few genuine shocks, enough to earn this film latter-day cult status. Reportedly, Bay of Blood was the primary influence for Friday the 13th and its blood-splattered progeny.
News & Interviews for Reazione a catena (A Bay of Blood) (Twitch of the Death Nerve)
Critic Reviews for Reazione a catena (A Bay of Blood) (Twitch of the Death Nerve)
Audience Reviews for Reazione a catena (A Bay of Blood) (Twitch of the Death Nerve)
½
Horror Icon Mario Bava crafts a stunning horror feature with A Bay of Blood. Italian directors have long been masters of horror, and Bava who helped pioneer the Giallo, Slasher genres, delivers one of the genre's finest films with this picture. A Bay of Blood is a gory thrill ride that will definitely appeal to gore hounds. The film's plot is simple, yet has enough intrigue to keep you on the edge of your seat from start to finish. The film's atmosphere is dark and brooding, and Bava effectively uses that to his own advantage in order to create a horrifying experience that will stay with you. The ideas here are simple, yet the film works very well due to the fact that the kill sequences are inventive, shocking and memorable. If you love the genre, definitely give A Bay of Blood a shot, this is among the finest of all Slasher films produced, and it is an iconic picture that has a profound impact on many other films that would follow. The film is a terrific display of special effects, and it still holds up to this day. The plot, acting and everything else are good, but the way the killer dispatches his victims is really key of the whole movie. The real star of the film of these sequences that are very well done, and are obviously what makes this film so good. Mario Bava brings a great sense of style to what mainstream viewers would call mindless murder and mayhem. A Bay of Blood is a masterwork of the genre, a milestone in Slasher films and Giallo alike. The cast are good, but in regards to the big picture, the kills are the best aspect of the film and with that being said will surely thrill diehard genre fans.
½
Ending was good, but movie has way too many characters and is unnecessarily confusing for a horror. Dub is crappy too.
Nicki Marie
Super Reviewer
½
Fantastic early slasher film from the great director, Bava. It starts out mysteriously, confuses you, and then twists things around until it gives you a crazy ending. I loved the blood and gore too, it's perfect. It's only some of the actors who aren't very good, but it doesn't matter. I really enjoyed this.
Reazione a catena (A Bay of Blood) (Twitch of the Death Nerve) Quotes
There are no approved quotes yet for this movie.