Be Kind Rewind
(2008)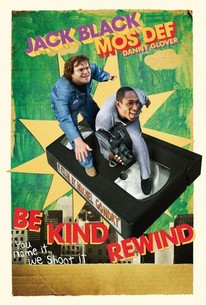 Movie Info
Jerry is a junkyard worker who attempts to sabotage a power plant that he believes is melting his brain. But, when his plan goes awry, the magnetic field that he creates accidentally erases all of the videotapes in a local video store where his best friend Mike works. Fearing that the mishap will cost Mike his job, the two friends team up to keep the store's only loyal customer--a little old lady with a tenuous grasp on reality--from realizing what has happened by recreating and re-filming every movie that she decides to rent. From "Back to the Future," to "Robocop," to "Rush Hour," to "The Lion King," Jerry and Mike become the biggest stars in their neighborhood by starring in the biggest movies ever made.
Critic Reviews for Be Kind Rewind
Audience Reviews for Be Kind Rewind
½
Now, I'll be honest, I find Jack Black to be a so-so actor. At time she can be pretty funny, other times he can be annoying. With Be Kind Rewind, he is very enjoyable, and gives one of his better performances. This is a very good film that is highly entertaining from start to finish, and in many ways, this is a tribute to the love of cinema. The film boasts a fun storyline, and this film is a lot of fun and I was pleasantly surprised at how much I enjoyed it. With a good blend of comedy and feel good charm, this is a must see that boasts several film references. In terms of sheer originality, Be Kind Rewind is a standout feature that will satisfy any film lover. Jack Black is very good here, and the chemistry between him and Mos Def is terrific. The rest of the cast are great too, and each actor being something to really make this a must see comedy. I loved this film, and the script was well thought out, original and above all refreshing. There is plenty to enjoy here, and director Michel Gondry has made a film that is well worth your time. This film has plenty of heart, and memorable scenes to really make it a unique film experience. The film has a few weak moments, but overall, there are plenty of strengths here that overshadows the few weak aspects. Be Kind Rewind is a good comedy with plenty of good performances, a great story, and plenty of humor to make it a film that can exceed your expectations. I was surprised with this film, and I think I would enjoy it as much as I did, but I walked away from it, not only enjoying it, but feeling that this among Jack Black's best performances.
Jack Black and Mos Def make a good comedy and entertainment duo in Michael Gondry's heartwarming film, Be Kind Rewind. The film is clever and though has its hiccups, can't be overlooked, especially from the amount of charm and originality it provides. 4/5
Eugene Bernabe
Super Reviewer
[img]http://images.rottentomatoes.com/images/user/icons/icon14.gif[/img] Be Kind Rewind has a decent enough storyline but it's ultimate strength is in the sweet subtext, it's heartfelt quirkiness and surrealist indie stylings. But in equal measure the belly laughs along the way. A lot of people dislike this film but what Michel Gondry is trying to express through it is one simple message, movie's are better when you do them yourself. That little meaningful movies recorded on a camcorder by anyone can be equally as important as commercialist big budget blockbusters.
Directors Cat
Super Reviewer
Be Kind Rewind Quotes
| | |
| --- | --- |
| Jerry: | When you're walking down the street, and you see a little ghost. What'cha gonna do, you call Ghostbustasssssss! |
| Mike: | What's that? |
| Jerry: | Its the Ghostbusters theme song. |
| Mike: | No, it's not. |
| Jerry: | I'm pretty sure it is. |
| | |
| --- | --- |
| Jerry: | This calls for Robocop. |
| Mike: | This calls for Robocop to get shot!!! |
| Mike: | This calls for Robocop to get shot! |
| | |
| --- | --- |
| Jerry: | i will shoot you and i know robot karate |