The Beach
(2000)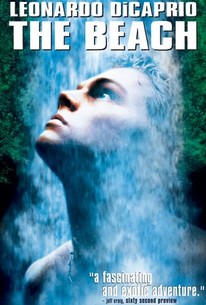 TOMATOMETER
AUDIENCE SCORE
Critic Consensus: Critics say The Beach is unfocused and muddled, a shallow adaptation of the novel it is based on. Points go to the gorgeous cinematography, though.
Movie Info
For his first major project after the overwhelming success of Titanic, Leonardo Di Caprio took a risky path in this adaptation of Alex Garland's acclaimed novel, directed by Danny Boyle. Richard (Di Caprio) is an American backpacking through Asia with a handful of friends from Europe. While in Bangkok, he meets a mad Scotsman who calls himself Daffy Duck (Robert Carlyle). Shortly before Mr. Duck kills himself, he gives Richard a crude map to a place in Thailand that he claims is paradise on earth: beautiful, unspoiled, and uninhabited. For lack of anything better to do, Richard and his companions try to locate the spot, which, after a dangerous and taxing journey, takes them to a beach as beautiful as Duck said it would be. Richard and his friends settle in, but before long they discover that they are not alone; a large group of fellow travelers has already dug themselves in, and they have established a community with the same social evils that Richard was hoping to leave behind. Just as important, there is an army of natives who grow marijuana in the nearby hills and do not appreciate the presence of these visitors. The Beach proved controversial during production, partly due to production delays and shifting release dates, partly due to environmental concerns after crew members bulldozed parts of the Thai island of Phi Phi Le for the planting of non-native trees. ~ Mark Deming, Rovi
News & Interviews for The Beach
Critic Reviews for The Beach
Audience Reviews for The Beach
The visuals are jaw-dropping and the idea is promising, but the film is irregular and shoots in every direction without managing to fully explore the possibilities of its premise, remaining a lost opportunity to show how paradise is not really about a place but the people living in it.
Carlos Magalhães
Super Reviewer
Excellent story with breathtaking scenery set in Thailand. Leo's character Richard is an American tourist who embarks on an adventure to find a paradise island. But at what price? My favourite scenes are when Francoise pretends to be eaten by a shark, when they debate how they are to get down from the waterfall and the scene where they are together in the water. Excellent cast and soundtrack. Directed by Danny Boyle.
Candy Rose
Super Reviewer
The film goes all over the place and in the end barely saves itself. The acting is good but nothing special and Boyle's directing wasn't exactly there. More of an exercise with a big budget, Boyle uses new techniques to grab our attention but ultimately leaves most viewers unsatisfied.
The Beach Quotes
| | |
| --- | --- |
| Richard: | That is an ASSHOLE idea! |
| | |
| --- | --- |
| Richard: | You hope and you dream. But you never believe that something's gonna happen for you. Not like it does in the movies. And when it actually does, you expected to feel different, more visceral, more real. I was waiting for it to hit me. |
| | |
| --- | --- |
| Richard: | Trust me, it's paradise. This is where the hungry come to feed. For mine is a generation that circles the globe and searches for something we haven't tried before. So never refuse an invitation, never resist the unfamiliar, never fail to be polite and never outstay the welcome. Just keep your mind open and suck in the experience. And if it hurts, you know what? It's probably worth it. |
| | |
| --- | --- |
| Richard: | "I still believe in paradise. But now at least I know it's not some place you can look for. Because it's not where you go. It's how you feel for a moment in your life when you're a part of something. And if you find that moment... It lasts forever" |
| Richard: | And me, I still believe in paradise. But now at least I know it's not some place you can look for, 'cause it's not where you go. It's how you feel for a moment in your life when you're a part of something, and if you find that moment... it lasts forever... |
| Richard: | And me, I still believe in paradise. But now at least I know it's not some place you can look for, 'cause it's not where you go. It's how you feel for a moment in your life when you're a part of something, and if you find that moment... it lasts forever. |