The Beast of Yucca Flats
(1961)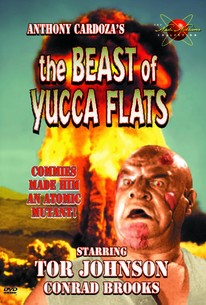 AUDIENCE SCORE
Critic Consensus: No consensus yet.
Movie Info
An important scientist is chased by Communist agents into an atomic bomb test field. The bomb goes off and the radiation fallout changes the scientist into a disfigured, demented figure bent on revenge.
Critic Reviews for The Beast of Yucca Flats
Audience Reviews for The Beast of Yucca Flats
"Touch a button. Things happen. A scientist becomes a beast." This line sums up the entire plot of this no budget stinker, things just happen. I made the unfortunate mistake of watching this film without the MST3K commentary and that was a huge mistake. Despite being only 54 minutes in length, the film paradoxically feels a lot longer. By the last twenty minutes I was almost dozing off into sleep. Beyond the initial setup, the film is just watching a bunch of random things happening with a narrator saying lines of random broken dialogue that make no sense. Aside from technical failings such as the music looping over and over again to the point that it becomes mind-numbing, the biggest failing is the monster itself. These movies tend to only be as good as their monsters, and Tor Johnson is not good at all. His "deformities" only look like sun burns, and the wooden cane he carries makes him look like a grumpy old man rather than a terrifying rampaging monster. The other actors are a joke. The acting is so laid-back and stiff that it robs the film of any life. Aside from a few laughs, the only saving grace of this pile of B-movie trash is it is only 54 minutes.
Christopher Heim
Super Reviewer
Glad I saw the MST3K version of this movie, it's so awful I wouldn't have been able to sit through the whole thing without their funny commentary. The story is boring, stupid, pointless, and goes nowhere in the end. The acting is a joke, Tor Johnson is the only real star, and he doesn't even have any lines! The editing and cinematography are horrendous. Don't watch this movie.
½
A nuclear explosion turns noted Russian scientist Tor Johnson into a strangling beast. Yes, it's one of the worst movies ever made, but it's still worth seeing for the extremely patient for the strange, dreamlike scenes full of delightfully nonsensical but dramatically delivered narration ("flag on the moon -- how did it get there?")
The Beast of Yucca Flats Quotes
There are no approved quotes yet for this movie.