Beasts of the Southern Wild
(2012)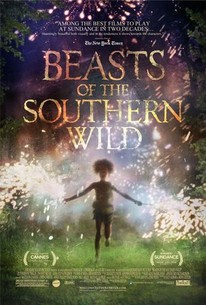 TOMATOMETER
AUDIENCE SCORE
Critic Consensus: Beasts of the Southern Wild is a fantastical, emotionally powerful journey and a strong case of filmmaking that values imagination over money.
Beasts of the Southern Wild Photos
Movie Info
In a forgotten but defiant bayou community cut off from the rest of the world by a sprawling levee, a six-year-old girl exists on the brink of orphanhood. Buoyed by her childish optimism and extraordinary imagination, she believes that the natural world is in balance with the universe until a fierce storm changes her reality. Desperate to repair the structure of her world in order to save her ailing father and sinking home, this tiny hero must learn to survive unstoppable catastrophes of epic proportions. -- (C) Fox Searchlight
News & Interviews for Beasts of the Southern Wild
Critic Reviews for Beasts of the Southern Wild
Audience Reviews for Beasts of the Southern Wild
A spellbinding film that uses a shaky handheld camera (and grainy image) together with a lot of visual poetry to create a combination of naturalism and fantasy, with a wonderful performance by the young Quvenzhane Wallis in a touching story about love and courage.
Carlos Magalhães
Super Reviewer
Once there was a Hushpuppy... Good Film! You have never seen anything quite like "Beasts of the Southern Wild". It is a film that will have you thinking about the love between a father and a daughter, about appreciating what you have in life and our ability to adapt to whatever comes at us. Quvenzhané Wallis is certain to beat Anna Paquin and Tatum O'Neal out as the youngest best actress nominee in history. Best original Screenplay is also almost a certainty. Go in with an open mind and enjoy this unique film that plays almost like a documentary and yet is full of fantasy elements as well. If I have one quibble with the film it is the hand-held camera technique that at least in the early scenes is particularly annoying. It usually takes so much from my enjoyment of the film. I get it though, it gives it a more realistic feel and in this film it may have added to the overall experience. Still bugs me though. Hushpuppy, an intrepid six-year-old girl, lives with her father, Wink, in the Bathtub, a southern Delta community at the edge of the world. Wink's tough love prepares her for the unraveling of the universe; for a time when he's no longer there to protect her. When Wink contracts a mysterious illness, nature flies out of whack, temperatures rise, and the ice caps melt, unleashing an army of prehistoric creatures called aurochs. With the waters rising, the aurochs coming, and Wink's health fading, Hushpuppy goes in search of her lost mother.
Beasts of the Southern Wild Quotes
| | |
| --- | --- |
| Hushpuppy: | I hate you! I hate you! And when you die Imma eat birthday cake on your grave! |
| Hushpuppy: | I hate you! I hate you! And when you die I'm gonna eat birthday cake on your grave! |
| | |
| --- | --- |
| Hushpuppy: | Everybody loses the thing that made them. The brave men stay and watch it happen. They don't run! |
| | |
| --- | --- |
| Hushpuppy: | When an animal gets sick here, they plug it into the wall. |
| | |
| --- | --- |
| Hushpuppy: | I'm recording my story for the scientists in the future. In a million years, when kids go to school, they gonna know: once there was a Hushpuppy, and she lived with her daddy in The Bathtub. |