Beat Street
(1984)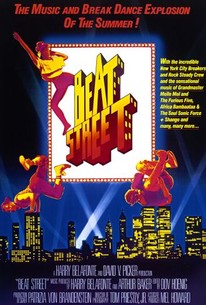 Movie Info
Jon Chardiet plays a Puerto Rican youth who targets subway walls for his graffiti renderings. For a while, it looks as though Chardiet's problems will carry the plotline, but before long the film's true raison d'etre comes to the surface. Rap-music deejay Guy Davis, in tandem with such like-minded individuals as music student Rae Dawn Chong, endeavor to stage a huge breakdancing presentation, featuring several musical artistes of the period. Harry Belafonte served as coproducer.
Critic Reviews for Beat Street
Audience Reviews for Beat Street
Without doubt Beat Street is the best film about the breakin scene. Everything about it is spot on,the clothes (puma),the music and most importantly the dancing! The storyline is basic,but hey whats there to tell a story about? The whole point of the film is to show what kids of that moment in time were doing,what mattered to them. It shows that teenagers in general are good,all that mattered to these everyday kids was music,dancing and friendship. Having watched the DVD recently i was plesantly surprised how well it had stood the test of time! The clothes didn't look dated (possibly because Puma is now having a massive comeback),the music still sounds fresh,and the dancing is still captivating to watch. A film anyone 10-25 years of age should see as part of their youth culture.
Cassandra Maples
Super Reviewer
Bronx teens who display their graffiti skills want to be seen as artists, not vandals. Too bad someone vandalized the script.
Mark Hobin
Super Reviewer
Beat Street Quotes
There are no approved quotes yet for this movie.