Beatriz at Dinner
(2017)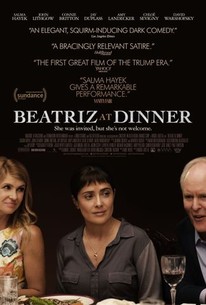 TOMATOMETER
AUDIENCE SCORE
Critic Consensus: Beatriz at Dinner offers timely social commentary enlivened by powerful, layered performances from Salma Hayek and John Lithgow.
Movie Info
Beatriz (Salma Hayek), an immigrant from a poor town in Mexico, has drawn on her innate kindness to build a career as a health practitioner in Los Angeles. Doug Strutt (John Lithgow) is a cutthroat, self-satisfied billionaire. When these two opposites meet at a dinner party, their worlds collide and neither will ever be the same.
News & Interviews for Beatriz at Dinner
Critic Reviews for Beatriz at Dinner
Audience Reviews for Beatriz at Dinner
The ending leaves a lot to be desired but Hayek's low key performance is great.
Alec Barniskis
Super Reviewer
½
Billed as a Trump-era satire, and given the fact that the premise involves a middle-aged, working class Mexican immigrant going head-to-head with a rich, bilious, selfish real estate tycoon who proudly skirts the law, you'd be expecting fireworks. That's quite a culture clash and writer Mike White (School of Rock) serves up the making of a delicious and squirm-inducing evening as the titular Beatriz (Salma Hayek), a holistic massage therapist, is marooned at the house of a rich client (Connie Britton). They're hosting a very famous, very influential business tycoon (John Lithgow), and his demeanor and perspective couldn't be more opposite from Beatriz. As the night wears on, and the wine is consumed, Beatriz confronts these privileged and oblivious people. The most frustrating part about Beatriz at Dinner is that all the pieces are there for a terrific movie but White's script goes slack in the second half. The film never really escalates the drama and you keep waiting for more confrontations. I think perhaps I wanted the stage play version of this story, a dialogue-driven debate between two combative characters buoyed by a sense of righteous indignation. Hayek is quite good and reminds you what kind of actress she has at her disposal. Her wounded expressions say volumes. The other problem is that this 85-minute movie ends on a note of baffling nihilism that left me cold. It's like White threw up his hands and declared that as long as there are powerful men in the world like Trump, with an oversized influence the common man cannot compete with, then why bother trying to heal the world and make it a better place? It's an abrupt ending and one that doesn't feel in keeping with the character. I wish someone would take this story and adapt it for the stage and give it the treatment it deserved before White sacrificed all for his fatalistic message about the futility of trying in the Trump era. Nate's Grade: C+
Nate Zoebl
Super Reviewer
½
A movie that didn't know what it wanted to be - a biting satire, an anti-Trump screed, a look into the lives of vacuous people. Could have been much better. Gave it a 50 thanks to Connie Britton. (6-25-17).
Beatriz at Dinner Quotes
There are no approved quotes yet for this movie.