Beaufort
(2008)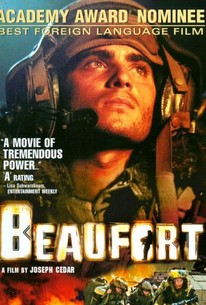 Movie Info
Not far from the old seafarer's fortress, Beaufort, is a military base with the same name kept by the Israeli army. This heavily guarded post has been here since the war in Lebanon in 1982. It is a symbol not only of Israel's most controversial campaign for military control of Lebanon, but also of a sacrificial struggle during which many soldiers lost their lives. The Israeli troops move out of Lebanon, leaving behind their base at Beaufort. On the evening of May 24th, the base is destroyed, blown up by thousands of mines. The powerful explosion marks the end of 18 years of Israeli occupation. The film tells the story of Liraz Liberti, the 22-year-old commander of Beaufort, and his troops during the last few months prior to their withdrawal. The story does not center on the war but on their retreat. The base is still under enemy fire as Liraz prepares to explode the site, thus destroying everything that his friends and comrades have died for trying to defend.
Critic Reviews for Beaufort
Audience Reviews for Beaufort
A fantastic offering from Israel depicting the comradeship between soldiers assigned to an isolated outpost in Lebanon. Director Joseph Cedar centers the focus on his characters by putting the camera right down in the trenches with them. Other than their mortars and missiles you never even see the enemy, increasing the sense of isolation and (sometimes) despair. A fitting tribute to the brave men who actually served at Beaufort.
Randy Tippy
Super Reviewer
A very sad true story of the group of soldiers that was left to guard a mountain fort during the Lebanon war, Beaufort gives you an utter feeling of hopelessness. Its filmed with fluid motion photography which at first makes you unsure whether this is a motion picture of a documentary. The movie begins in the middle of their service as new recruits come in and others finish their terms. They all discuss why they think they are there and whether or not they feel it is worth it to risk their lives for something they didn't even start. The movie is a psychological exercise of what is right and what is wrong which I always find worth seeing.
Lizzy Bennett
Super Reviewer
You almost want to characterize this as the live action version of Waltz With Bashir...in my opinion it is just as effective. A very appropriate picture given that another great troop withdrawal is soon upon us.
John Ballantine
Super Reviewer
Beaufort Quotes
There are no approved quotes yet for this movie.