Beautiful Boy
(2011)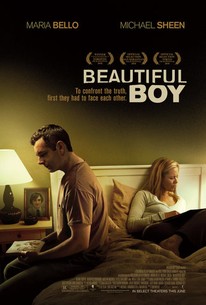 Movie Info
Bill (Michael Sheen) and Kate (Maria Bello) hopelessly try to find some hint of an explanation after finding out that their only son committed a mass shooting at his university before taking his own life. They struggle numbly through the funeral, the media onslaught, and the awkward pity from relatives and friends. Their already strained marriage is tested as they realize all they have left with each other is their shared grief and confusion-and the unfortunate legacy of their son. This life-altering event forces Bill and Kate to face their feelings of guilt, rage, blame, self-discovery -and ultimately hope- so that they can finally see each other and their chance for happiness again with clear eyes. -- (c) Anchor Bay
News & Interviews for Beautiful Boy
Critic Reviews for Beautiful Boy
Audience Reviews for Beautiful Boy
½
This movie is not about a school massacre. Nor, is it about why a person chooses to do such a thing. What it IS about is the struggle of two parents to hold it together, in the midst of not only grieving about the death of their son, but also to come to terms with the fact that he is a mass murderer...all in the middle of a tiresome and bitter marriage. I have to admit, every time there's a shooting like this, I immediately think of the parents. What kind of parents raise a child that can do this? what went wrong? are the parents normal parents? or bad parents? and what now for them? This is a subject rarely dealt with. Well done....
Cynthia S.
Super Reviewer
"Beautiful Boy" is a fairly good melodrama about a married couple struggling to comprehend why their son commits a Columbine-style massacre at his college. The subject matter is great, and Michael Sheen and Maria Bello really put their all into their performances. But there's something missing. It doesn't go beyond what you'd expect from a melodrama on a basic-cable channel. The script is just too thin. The direction from Shawn Ku (his first feature film) is sensitive but a bit pedestrian.
William Dunmyer
Super Reviewer
½
Cast:Michael Sheen, Maria Bello, Alan Tudyk, Moon Bloodgood, Kyle Gallner, Meat Loaf, Darren O'Hare, Deidrie Henry, Bruce French Director:Shawn Ku Summary: This heartrending drama stars Michael Sheen as Bill Carroll, who is contemplating separating from his wife, Kate (Maria Bello), when the unimaginable happens: Their 18-year-old son, Sam (Kyle Gallner), commits mass murder at his university before killing himself. While coping with their grief, Bill and Kate must deal with the insatiable media, other parents furious at them for their son's actions and their own questions about their culpability. My Thoughts: "Such a sad, dark, emotional story. You never really hear about the shooter's parents or family when these unfortunate things happen. I was eager to see this side of the story. The acting is very good by Maria Bello and Michael Sheen. I was more impressed by Sheen's performance. I just believed him more maybe in his character. But together they were fantastic. It's unfortunate that the son's actions left behind a huge mess for his parents. They are in a way paying for the crime he committed. In the beginning Bill is the strong one pushing through trying to move forward as Kate is still in the process of trying to come to grips of what happened. But by the end the roles dramatically change and it's truly heartbreaking to watch."
♥˩ƳИИ ƜѲѲƉƧ♥
Super Reviewer
Beautiful Boy Quotes
| | |
| --- | --- |
| Kate: | you don't think if you force your son to eat carrots when he's young it will turn him into a killer when he grows up |
| Kate: | You don't think if you force your son to eat carrots when he's young it will turn him into a killer when he grows up. |
| | |
| --- | --- |
| Sammy: | "As the boy and the girl ran out from the station wagon the beach was happy. It was happy to have their small footprints upon it, it was happy to have holes dug with plastic shovels, it was even happy to have paper wrappers blowing about after theyâ??d gone. But the beach knew there would no longer be this to look forward to, no more careless play, only lonely snowfalls to mark the beginnings of an endless winter. The beach loved the boy and the girl, though had no way of telling them and it knew this was their last time together. Things would be different from now on, it didnâ??t know if they would be better or worse, but for certain things would change." |
| Sammy: | As the boy and the girl ran out from the station wagon the beach was happy. It was happy to have their small footprints upon it, it was happy to have holes dug with plastic shovels, it was even happy to have paper wrappers blowing about after they'd gone. But the beach knew there would no longer be this to look forward to, no more careless play, only lonely snowfalls to mark the beginnings of an endless winter. The beach loved the boy and the girl, though had no way of telling them and it knew this was their last time together. Things would be different from now on, it didn't know if they would be better or worse, but for certain things would change. |
| | |
| --- | --- |
| Bill: | There is no defense for what he did! |
| | |
| --- | --- |
| Kate: | Did we do something? Did we not do something? |