Beautiful Creatures
(2001)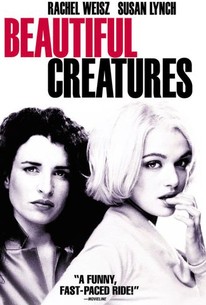 TOMATOMETER
AUDIENCE SCORE
Critic Consensus: Implausible, uneven, and gratuitously violent, this esotrogen-powered crime caper lacks the finesse of Thelma and Louise or Guy Ritchie's work.
Beautiful Creatures Photos
Movie Info
Two women who might not guess just how much they have in common are brought together under highly unusual circumstances in this dark comedy. Dorothy (Susan Lynch) is an upper-class British woman whose marriage to Tony (Iain Glen) is on the rocks; after a furious argument during a trip out of town, Dorothy arrives home to discovers Tony has left, but not before trashing their flat and everything in it. While trying to catch a bus across town, Dorothy sees a man who appears to be drunk, reading the riot act to a woman cowering at his insults. Enraged, Dorothy attacks the man with a pole, knocking him out. The woman, named Petula (Rachel Weisz), informs Dorothy that her victim is Brian (Tom Mannion), her boyfriend, who is also the brother of Ronnie (Maurice Roeves), her employer. Petula helps Dorothy drag the unconscious Brian back to her apartment, but they soon discover that she didn't just knock him out; she mortally wounded him. Now Dorothy and Petula have to dispose of a dead body while keeping the facts away from Brian's family, as well as the law. Beautiful Creatures was the first feature produced by DNA Films, a production company financed in part by the U.K. Lotto and headed up by two of Britain's leading producers, Duncan Kentworthy and Andrew Macdonald.
Critic Reviews for Beautiful Creatures
Audience Reviews for Beautiful Creatures
2-1/2 Stars Best part of the movie is Pluto the slightly Pink dog does not Die. Low budget "Lock stock and two smoking barrels" painted on a "Thelma and Louise" canvas. Well paced and continually involving. Even if you don't like the Violence and the cliche derivative male characters you won't turn it off until the end. Rachel Weisz character "Pentula" is trapped in a violent relationship with the brother of a mobster. Her character of a blonde ditz is so poorly developed, its hard to feel anything for her. Susan Lynch is much more dynamic of a character as Dorothy, the brains of the operation. The movie really turns into flat cliche when her heroine junky boyfriend shows up and shoots her dog. (But he's OK in the end)
Bill Cavros
Super Reviewer
Beautiful Creatures Quotes
There are no approved quotes yet for this movie.