Beautiful Kate
(2009)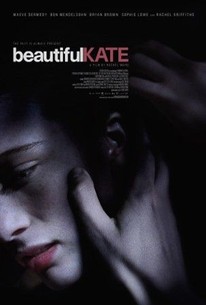 Movie Info
Celebrated British-born actress Rachel Ward (The Thorn Birds, Against All Odds) makes her feature directorial debut with this unique and occasionally provocative drama, featuring longtime husband Bryan Brown and produced in Brown's native Australia. A loose adaptation of the 1982 novel by Newton Thornburg (Cutter's Way), it transposes the events of that roman from Chicago to an Australian farm. Ben Mendelsohn stars as Ned Kendall, a fortyish author who takes his young, slightly uncouth girlfriend, Toni (Maeve Dermody) along to visit his dying father, Bruce (Brown) a failed politician and farmer now cared for by daughter Sally (Rachel Griffiths) on the clan's Aussie property. The relationship between Ned and Bruce remains supremely dysfunctional, as father constantly berates and pushes his son; the focal points of their conflicts spring from the teenage death of Ned's twin sister Kate (Sophie Lowe) and the suicide of his older brother Cliff (Josh McFarlane). After Toni and Sally each storm out of the home in a nasty huff, director Ward intercuts two parallel narratives: the circumstances (including Kate's insatiable sexual curiosity during adolescence) that once led to the family's two tragic losses, and, in a contemporary framework, the delicate steps that Bruce and Ned begin to take toward reconciliation, in the period immediately preceding Bruce's death. ~ Nathan Southern, Rovi
News & Interviews for Beautiful Kate
Critic Reviews for Beautiful Kate
Audience Reviews for Beautiful Kate
½
In "Beautiful Kate," Ned(Ben Mendelsohn) travels to the outback to visit his long-estranged father Bruce(Bryan Brown) with his much younger girlfriend, Toni(Maeve Dermody), a waitress with dreams of acting, in tow. Bruce has conjunctive heart failure with only a short time to live and is cared for by his youngest daughter Sally(Rachel Griffiths) who also volunteers for the local aboriginal community. She has to leave for a few days, giving Ned more time to spend with his father and to think about his twin sister Kate(Sophie Lowe). "Beautiful Kate" is a darkly engaging movie that takes its time moving through the landscape of memories with the help of natural performances and cinematography. Writer/director Rachel Ward handles the provocative material with sensitivity, allowing the viewer to understand what happened and possibly why but not pass judgment. Ned being a writer actually works here, as it is the kind of profession that Bruce would frown upon, thinking that the only kind of job for a man is where he works with his hands. And it would be so very easy to think of Bruce as a national champion rat bastard but that single shot of all four children around the dinner table hits home how hard it probably was to raise four children all alone after his wife's death.
½
03/02/2011 (ONLINE) An excellent drama that stirred me the wrong way... I'm puzzled, and to think that this is suppose to disgust me didn't, well, in the end it didn't. Morally it's insane yet innocently it seems harmless. This would of got just the 3 stars but I pushed in a half more for actually puzzling my view of this situation. I know what's right from wrong and yet I felt sorry for the true enemies or rather, the guilty ones. I did not expect to be moved like that and feel something for this story but I was quite stunned in the end. I was actually not liking what was going on and then a sudden impact in the story started to sink in and now I was sad... I should be glad at what happened but I actually felt sorry for everybody even though they were all guilty for something. A great Australian flick that builds up gradually. On the drama scale its a winner and for me, the story still lingered in my thoughts long after I saw the movie. Another film that I was 'Not Interested' in that I enjoyed surprisingly. Thanks to all those who kept recommending it till I finally said... Oh, alright then!
EightThirty .
Super Reviewer
Wow, this was a dark movie. Definitely not for all tastes, and a little slow to get moving, but once the family secrets started to come out, just enthralling. I think this movie did a good job as even though it deals with something pretty much inexcusable, it does make you pause slightly and wonder who the real victim was, or if they were all victims. Acting is superb as well. Was particularly impressed with Sophie Lowe who plays Kate in flashbacks.
Nicki Marie
Super Reviewer