Beautiful Lies (De vrais mensonges)
(2010)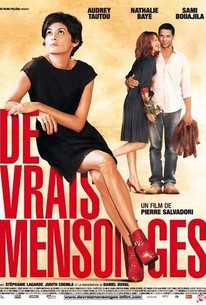 Beautiful Lies (De vrais mensonges) Photos
Movie Info
An anonymous love letter leads to a slew of misunderstandings in this lighthearted comedy starring Audrey Tautou (Amelie). When Emilie opens a heartfelt love letter from a secret admirer, her first instinct is to throw it in the trash. The skeptical salon owner has a change of heart, however, when she realizes what such a sentiment would mean to her lonely, despondent mother Maddie (Nathalie Baye). On a whim, Emilie forwards the letter, and goes on with her day. But later, when Maddie happens across Jean (Sami Bouajila) - a smitten Arab handyman and the original author of the amorous note - the mother and daughter find themselves in a heated competition for the same man. ~ Jason Buchanan, Rovi
Critic Reviews for Beautiful Lies (De vrais mensonges)
Audience Reviews for Beautiful Lies (De vrais mensonges)
Liked, but didn't love this. I couldn't really warm to Emilie and her rather spiky personality at all. To be honest, I couldn't see what Jean saw in her. You could say the obvious (beauty) - but even that is not apparent here. That very short hair dyed a harsh black - not a good look at all (and Emilie is meant to be a hairdresser!). Also very blandly dressed. The only time I thought she looked nice was in her dress right at the end (obviously she is a pretty girl, so something is not right there!). The story itself is pretty good. Emilie receives an anonymous love letter from Jean and ends up sending it to her depressed mother, who has been in a slump for 4 years after her husband married a girl younger than Emilie. I don't know about anyone else, but I liked the mother, Maddy, way more than Emilie. I found myself hoping Jean would end up with her as they were both so sweet and Emilie was just - ugh! I think her character was just not written well enough. More explanation was needed to explain the bad behavior - for example, chopping the girls fringe off at the beginning of the movie. The father remarrying only explains so much. Overall worth a look, but don't expect too much.
Nicki Marie
Super Reviewer
½
A delicious farce! Beautiful Lies stars two of France's most beloved actresses, Nathalie Baye and Audrey Tautou. In combination with the director Pierre Salvadori they make a trio which can make an interesting movie from a very poor screenplay... A young woman who runs a hairdressing salon, Emilie (Tautou) desperately wants to help her love-starved mother Maddy (Baye), who has been dwelling in depression since her husband left. When Emilie receives a beautifully written anonymous love letter, she sees an opportunity to make her mother smile again. Too self-absorbed to see that the secret admirer is her shy handyman Jean, played by Sami Bouajila, Emilie copies the letter and sends it to her mother. Overjoyed, Maddy is determined to find the author of the letter... Complications ensue and Emilie quickly loses control of the web she has weaved. Do not expect too much from this movie... it is nice watching... it has two stars... interesting story... relax and enjoy and you'll be happy at the end!
Beautiful Lies (De vrais mensonges) Quotes
There are no approved quotes yet for this movie.