A Beautiful Mind
(2001)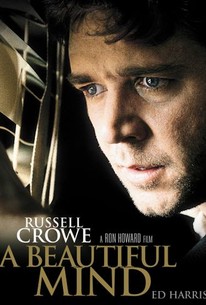 Movie Info
From the heights of notoriety to the depths of depravity, John Forbes Nash, Jr. experiences it all. A mathematical genius, he made an astonishing discovery early in his career and stood on the brink of international acclaim. But the handsome and arrogant Nash soon found himself on a painful and harrowing journey of self-discovery once he was diagnosed with schizophrenia. After many years of struggle, he eventually triumphed over this tragedy, and finally, late in life, received the Nobel Prize.
News & Interviews for A Beautiful Mind
Critic Reviews for A Beautiful Mind
Audience Reviews for A Beautiful Mind
A Beautiful Mind is definitely the type of movie that wins over the academy every year. They've always had a thing for heart string dramas, and while they don't always pick the best film per say, I truly believe this one deserved the win back in 2001. Many films grow a hatred after thet win awards, due to the fact that people now find them overrated, when they just didn't really think it was good enough to win. The term overrated is overused nowadays, but that's just my opinion. Happily, A Beautiful Mind is one of the films that I don't hear many complaints about as time as gone by. Sure, there are a few manipulative scenes and certain people who have direct relations to this film may not love it as much as some people, but I for one feel as though this film still stands as a masterpiece, and here's why. The watching this film for the first time, it feels like three completely different films throughout its three act structure. The first act feels more like it's going to be a movie in the same vein as Good Will Hunting, only to become a much more thrilling film, dealing with a nuclear bomb investigation throughout its second, eventually throwing the audience through a loop, making them wonder if anything they had just seen really happened at all. Once you've seen A Beautiful Mind, the surprises won't ever be there again, but the emotion is still very much present and worth watching over and over again. Russell Crowe is a revelation throughout this movie, plain and simple. Plain and simple, this film wouldn't have worked as well without a performance as devoted as Russell Crowe's. His mannerisms and the way he's able to fall in love with Alicia (Jennifer Connelly), is truly what transcends the film, making it as emotional as it is when the final act begins. His performances sucks you in from the very beginning and never lets you go, having you feel completely invested in this real-life character that had gone and still continues to go through this until the day the film was released. Across the board, this film is so well-acted, that it would've even been effective with a terrible screenplay, but that's just not the case at all. When it comes to screenwriting, it's very hard to make even the most realistic dialogue naturally flow as if you're watching something unfold in reality, but this is one of the few films that will always remain in my memory as a movie with a perfect screenplay. From the moments that need you to feel for each character in order to hold your interest, to the subtle moments that talk about love in great detail, to the seemingly overdone scientific subplots, once all is revealed in this film, everything falls into place perfectly, leaving nothing else to be desired, at least for myself. From performances, to superb direction by Ron Howard, to a script that will have those invested in tears, to a score that pulled me right into every moment, A Beautiful Mind won all of those awards for a reason. Looking back on this movie, nothing stands out as dated, even though it's only about 16 years old. If you've yet to view this film, I can't recommend it enough, especially to those who are fans of the dramatic side of filmmaking. I whole-heartedly love this movie for all of these reasons and then some. It's stylistic editing choices and use of on-set effects help this film feel even more authentic than it's script would've already allowed it to, so I have nothing to complain about in retrospect. This is a beautiful movie.
½
If you don't mind the fact that this Oscar-winning biography alters the real story considerably, it will certainly be a wonderful experience. Full review on filmotrope. com
Carlos Magalhães
Super Reviewer
½
Altho the writing's sketchy here and there, I'm gonna go along with the majority opinion on this and say that here is perhaps Ron Howard's finest work, the jarring twist mid-film lasting until the end of the work as another math genius gets tried by their own I.Q. and bigtime (see "Proof"). Strangely, this is Connelly's film as the long suffering wife who takes the audience (us) by the hand and shows us "this is not real!" Liked Proof better, but whatcha gonna do?
Kevin M. Williams
Super Reviewer
A Beautiful Mind Quotes
| | |
| --- | --- |
| John Nash: | There's no point in being nuts if you can't have some fun with it. |
| | |
| --- | --- |
| John Forbes Nash Jr.: | The implant... I can't find it... It's gone.... |
| | |
| --- | --- |
| Charles Herman: | The prodigonal roommate has arrived... |
| | |
| --- | --- |
| John Forbes Nash Jr.: | Who decides reason? |