Beautiful Thing
(1996)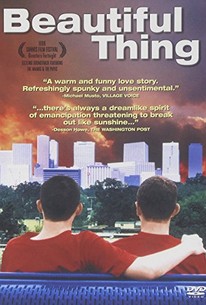 TOMATOMETER
AUDIENCE SCORE
Critic Consensus: An engaging slice of life drama that happens to double as a gay coming-of-age story, Beautiful Thing captures its place and time with deceptive depth and skill.
Movie Info
In this alternately somber and witty coming-of-age drama, a pair of teenage boys growing up in a working-class neighborhood become aware of their homosexuality. Introspective Jamie (Glen Berry) is the son of Sandra (Linda Henry), a tough but warm-hearted barmaid who lives in a public housing block in a rough-and-tumble section of South London. Living a few doors away is Jamie's classmate Ste (Scott Neal), an athletic type who often has to take a beating from his hard-drinking father and hard-headed brother. One night, Jamie and Sandra discover that Ste has been kicked out of the apartment and has nowhere to spend the night; Jamie lets him stay at his place, and a casual closeness eventually stirs sexual feelings. While both were vaguely aware they might be gay, neither had ever acted on their impulses, and once Jamie and Ste decide that they're attracted to each other, neither is sure just what to do. Tony (Ben Daniels), Sandra's boyfriend, doesn't know what to think about Jamie's new lifestyle. Meanwhile, Jamie and Ste are themselves a bit puzzled by their neighbor Leah (Tameka Empson), a teenager obsessed with the life and music of Mama Cass Elliott. ~ Mark Deming, Rovi
Critic Reviews for Beautiful Thing
Audience Reviews for Beautiful Thing
I'm going to hold off on providing a higher rating for this film which probably deserves it solely for the touching nature of the two leads and how they interact with one another. What loses the film points is unlikelihood of the eventual acceptance of the couple and a plodding side story that adds nothing to the central picture other than minutes.
John Ballantine
Super Reviewer
Touching film with quite capable actors. As an American, however, I must say that it was often difficult to follow the dialogue due to the thick accents and use of unfamiliar British slang. Despite this difficulty, I would recommend this movie highly to an American looking for a well-done, meaningful LGBT film.
Christian C
Super Reviewer
It's a sweet coming of age tale. Set in 1995 it was great to see in the background some Batman Forever candy holders. I used to have these and they were coooool. Anyway the film deals with its subject splendidly and avoids cliche, however as a byproduct of this it also seems to avoid any real conflict. Though it is good to see a guy bullied who isn't bothered by it. Ben Daniels is brilliant as the caring but clueless Tony but the real stand out is Tameka Empson as the Mama Cass obsessed youth. She lights up the screen and steals every moment she's in. A nice script that fashions its scenarios via realistic set-ups although the end dance is a BIT much.
Luke Baldock
Super Reviewer
Beautiful Thing Quotes
There are no approved quotes yet for this movie.