Beavis and Butt-head Do America
(1996)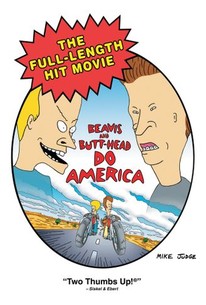 Beavis and Butt-head Do America Videos
Beavis and Butt-head Do America Photos
Movie Info
This is a full-length cartoon movie featuring the dim-witted obnoxious loser teens, Beavis and Butt-head. They are obsessed with sex, TV, heavy-metal rock 'n roll, sex, coolness and sex, in that order. The trouble begins when the couch-potato duo's beloved television disappears (they assume it was stolen). In the course of trying to get another TV, they get involved in a major arms-smuggling scheme and are chased all over the U.S. by mobsters and lawmen alike. In one of the movie's highlights, Butt-head tries to get Chelsea Clinton to go to bed with him. Apparently he believes that since they both wear braces, she will naturally want to have sex with him.
News & Interviews for Beavis and Butt-head Do America
Critic Reviews for Beavis and Butt-head Do America
Audience Reviews for Beavis and Butt-head Do America
½
Mike Judge's MTV-series-adaptation is surprisingly remarkable. Beavis & Butt-Head Do America is so utterly stupid (in character) that's it makes an entertaining and funny script. The film has its hiccups and pointlessness but is enjoyable to those who follow the two metal-heads as well as moviegoers. 3.5/5
Eugene Bernabe
Super Reviewer
½
The nineties were seemingly owned by the youth of the country. Grunge was still influencing dress by the mid-nineties, MTV was ruler of all, and Melrose Place was the dopey soap that was everyone's guilty pleasure. As a child of the nineties and not a teenager, I only got to observe the culture of that time. One prevalent show that dominated discussion at that time was Beavis and Butt-head; about two fourteen year olds in Albuquerque, New Mexico who never go to school, can't score, and grunt inaudibly between their sentences. I never watched the show or was an avid fan before I saw this film, but my expectations were met and exceeded. Not only are these two characters not contributing to the violence and idiocy of a nation, they are actually used to make fun of the teenagers they were chiefly watched by. Beavis and Butt-head as characters aren't too interesting, as they use the same sample of dialogue throughout and usually don't do anything but bitch and whine. It's more about the shenanigans they get into and the way characters around them interact that makes for an engrossing road trip movie. There is an entire cast of newly commissioned characters in this film, which means some truly amazing cameos from Chloris Leachman, Robert Stack, and former couple Demi Moore and Bruce Willis. Those two in particular give some truly steamy performances as exes who hunt each other down for a terrorist weapon. Most of the film involves the dunce duo's ignorance to their role in a nationwide conspiracy to kill a plethora of people. As anti-heroes the boys work because they are young enough to be unaware of how the world actually works while also ruining everything they touch and constantly getting into trouble while not caring about other's safety. They are ape-like and yet in the same vein you watch with rapt attention as they vandalize through yet another landmark, destroy the lives of yet another multitude of people, and still don't understand the basis for their behavior. I could write an in detail research paper on the motives behind these two characters, but they simply don't make up the bulk of the film. Much of the humor comes from satire and black comedy, more so than the gross out humor I was expecting. It's actually a quite clever and goofy film, and anyone can really enjoy it. Perhaps the allure is the simplicity of the world that these two inhabit, or the epicness of their destruction and maleficence, littering the path behind them. There is even a couple that gets the brunt of abuse for their follies while doing nothing themselves, showing in just another instance that Beavis and Butt-head are the protagonists after all. Though this film doesn't make me want to see the series, if you haven't either, it's not a deterrent. Many of the characters from the series apparently don't show up, and new problems and turmoil appear. It's just truly juvenile, anarchic, and idiotic fun that caters to different generations and makes them all belly laugh in turn.
Spencer S.
Super Reviewer
½
Beavis and Butt-Head Do America always present some funny scenes and lines, what make the movie a nice comedy, but in a lot of the picture are just stupid scenes that should be funny. Rotten.
Lucas Martins
Super Reviewer
Beavis and Butt-head Do America Quotes
| | |
| --- | --- |
| Butt-head: | Beavis, this is the greatest day of our lives. |
| | |
| --- | --- |
| Van Driessen (Hippie Teacher): | You know this can really be a positive experience for you guys. There's a wonderful and exciting world out there when we discover that we don't need TV to entertain us. |
| Butt-head: | Uh huh-huh, he said anus. Huh-huh. |
| Beavis: | Heh-heh, entertain us anus, oh yeah! Heh-heh. |
| Van Driessen (Hippie Teacher): | Have you guys heard a word I've said? |
| Butt-head: | Uh yeah, anus! Uh huh-huh. |
| Beavis: | Heh-heh, yeah I heard it too! Heh-heh. |
| | |
| --- | --- |
| Old Woman On Phone And Bus: | Oh, there are so many slots you don't know where to begin! |