Bebe's Kids
(1992)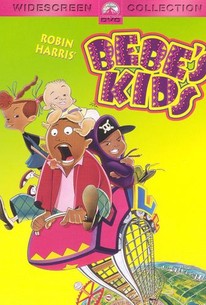 Movie Info
The first mainstream animated feature film directly aimed at African American audiences, Hyperion Productions' Bebe's Kids is based on a comedy routine by the late Robin Harris. Voiced by Faison Love, Harris endures a "date from hell" when he goes out with the lovely Jamika. His romantic rendezvous is ruined when he is stuck with Jamika's son-as well as Bebe's kids, three little horrors spawned from three different fathers. The worst of the batch is unhousebroken baby Peewee. The film manages within its 74 minute timeframe to skewer such topics as Hip-Hop music, urban riots and whitebread theme parks. Further proof that this is not a Disney flick was provided by the folks from the Motion Picture Production Code office, who bestowed a PG-13 rating upon the film. Bebe's Kids was released theatrically in tandem with the cartoon short Itsy Bitsy Spider, which was later spun off into a TV series.
Critic Reviews for Bebe's Kids
Audience Reviews for Bebe's Kids
So, a film inspired by a comedy stand-up. Too bad the stand-up couldn't be funnier. People say cult classic, I say dark day for the animated world (though with Don Bluth's animation going down the drain, you could argue animation was already in trouble). In what passes for a plot, our hapless hero Robin (Faizon Love and I have no idea what else he's been in) takes his new girlfriend Jamika (Vanessa Bell Calloway, who I hope has gone on to better things), her son and her friend's three kids out to Fun World for the day (and if that's a real theme park, that's the lamest name yet). The biggest problem with this film is that it over-exaggerates most of the main characters. The three kids aren't just bratty, they're walking reasons as to why you might not want kids of your own. They're scowling a lot, they act like they'll be punks in the future and why exactly is the baby talking? And I'm not a big fan of the "antagonist", Dorthea (Myra J), a money-grubbing bitch who wasn't needed when we already have annoying characters to throw popcorn at. And in tow, she has one of the most annoying sidekicks ever in Vivian (Nell Carter), a large woman with nothing worthwhile to contribute who's constantly eating. Ugh. I shudder at the thought of her. Odd thing is, for being a movie with a lackluster initial box office, it still got a video game. It was on the Super Nintendo and it sucked too. Don't believe me? Well, The Nostalgia Critic agrees with me. Thankfully, the movie is not too widely available. Means you won't have a chance to see it, though I wonder why you would in the first place.
½
Very funny. The animation is great and the jokes are funny. you really get a feel for the comedy of Robin Harris and that's a good thing.
Jason Spencer
Super Reviewer
Bebe's Kids Quotes
| | |
| --- | --- |
| Motorcycle Cop: | Oh no!!!! Those are Bebe's Kids!!!!!! |
| Motorcycle Cop: | Oh no! Those are Bebe's Kids! |
| | |
| --- | --- |
| Robin Harris: | I'm gonna slap the black off you! |