Becket
(1964)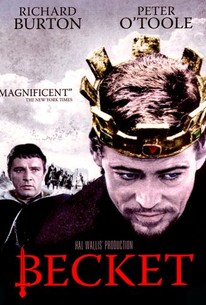 Movie Info
A historical costume drama of the grandest order, "Becket" is the true story of the friendship between King Henry II and Thomas à Becket, a royal courtier and confidant whom Henry appoints as Archbishop of Canterbury. Once proposed for the office, Becket immediately perceives what the King does not: that his job as head of the Church will inevitably bring him into conflict with the King's interests. Until that point, he had been the King's closest friend and beloved companion, serving him faithfully in all things despite Henry's attitude towards the Church. However, he sees that as Archbishop he will be unable to take so nonchalant an attitude, and so vigorously objects to the plan. The basic theme covering separation of church and state reverberates as it did between King Henry VIII and Thomas More, 400 years later [as famously recounted in "A Man for All Seasons"] and still reverberates today. As Becket takes his duties with the church more seriously, their lifelong friendship is strenuously tested. He finds himself increasingly at odds with the King, setting off a chain of events that will culminate in tragedy.
Critic Reviews for Becket
Audience Reviews for Becket
In a tale of nepotism gone wrong, Henry II appoints his friend Thomas Becket as Archbishop of Caterbury but isn't prepared for the consequences when Becket takes his commitment to God seriously. Richard Burton plays Becket with a reserve and subtle conscience, and from the first moment, he makes the character profoundly interesting. He's helped by a good script that makes who Becket is the focus of the first act. Peter O'Toole is hilarious and at his scenery-chewing best, playing the madcap king with the kind of gusto that made him famous, and his third act scenes reveal a humanity - a pathos - that makes his character even more interesting. Overall, despite the fine art direction, most of Becket is a character study involving the two leads, and the acting master class that is Burton and O'Toole is enough to carry this film admirably.
Jim Hunter
Super Reviewer
Becket is a fantastic period piece. It's long and some scenes are very drawn out, but it is well worth the watch. It's visually stunning and there isn't a bad performance in the film. Becket is the true story of the friendship of King Henry II and Thomas Becket. They have a strong friendship until Henry makes Becket the Archbishop of Canterbury. Becket loyalty turns from Henry to God and the King doesn't like that too much. It truly is an epic film.
Melvin White
Super Reviewer
Two best friends, one an amoral king, the other a man of God. This movie has a great story and great actors for the characters. It's kind of long, but I really liked it, and I recommend seeing it.
Becket Quotes
There are no approved quotes yet for this movie.