Bedlam
(1946)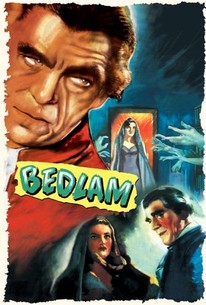 Movie Info
Nell Bowen, the spirited protege of rich Lord Mortimer, becomes interested in the conditions of notorious St. Mary's of Bethlehem Asylum (Bedlam). Encouraged by the Quaker Hannay, she tries to bring support to reforming Bedlam, but the cruel Master Sims who runs it has her committed there. The inmates, however, have the last say.
Critic Reviews for Bedlam
Audience Reviews for Bedlam
½
an interesting film, more a gothic costume drama than horror and producer val lewton's last film for rko. the story takes place in st mary bethlehem in london, a notorious madhouse. in the 18th century people were allowed to visit 'the loonies' as they were known and the hospital was a popular tourist attraction. anna lee plays an opinionated woman who objects to boris karloff's treatment of his patients and ends by being committed herself. the story was inspired by william hogarth's paintings of bedlam in the rake's progress and some of his works are used in the film. altho not nearly as lurid as it could have been it was banned in britain for many years. conditions for the mentally ill improved in the following century due to the efforts of the quakers and reaction to the madness of king george III
Stella Dallas
Super Reviewer
½
A very poor story executed decently. Tries to be a horror film at times and tries to be a politcal statement at times, while shoehorning in a love story. It fails at becoming any of these, but it does have some pretty decent scenes - mostly the ones with Karloff (of course).
Tim Salmons
Super Reviewer
½
Although it sounds like a good story, it isn't such a good movie. The only good actor is Karloff, and the movie is somewhat strange and somewhat boring.
Bedlam Quotes
There are no approved quotes yet for this movie.