Beer for My Horses
(2008)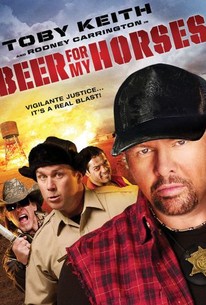 Beer for My Horses Photos
Movie Info
Country music star Toby Keith writes and stars in this road movie comedy as a deputy who takes to the road with a fellow cop (played by co-writer Rodney Carrington) in order to save their kidnapped girlfriends. The CMT Films production is directed by Michael Salomon (A Glimpse of Hell), with Ted Nugent, Willie Nelson, Claire Forlani, Barry Corbin, and Tom Skerritt filling out the supporting cast.
Critic Reviews for Beer for My Horses
Audience Reviews for Beer for My Horses
½
I honestly had no idea what to think about this before I watched it. I honestly don't even know what got my attention about it but boy am I happy I I watched it. Toby Keith is a better actor than he is singer...then again his music isn't so bad but I'm not saying it >_> You have Toby as a deputy sheriff with a comedy duo of Rodney Carrington and Ted Nugent as his back up. I tell you what I love Rodney in everything I see him do ever since the days of Bob and Tom. His humor is so great in this movie. It's an action comedy that reminds me of a buddy cop movie you'd see in the 80's. This movie was watching just for the bathroom scene with Rodney. So great. You got Ted who never says anything and plays the guy with all the guns and loves his job and shooting at people. You got dysfunctional stuff you hear about in country songs going on for humor and a story that doesn't take itself to serious. Definitely worth a couple of watches just to see the comedy hi jinx that ensues.
Aurelius Duchtius
Super Reviewer
½
I rented this with the intention of being sarcastic and superior. I was going to be the only person I know to watch THAT movie, much like I did with Postal. Well you know something? I'm a dick, because it really wasn't that bad. Don't get me wrong, it's not high art by any exaggeration. But it's not trying to be. It's meant for a very specific audience and I imagine that audience enjoyed it quite a bit. The cast is likable enough, and the film is competently done. Nothing original or groundbreaking or even suspenseful, but it will feel quite comfortable to its intended viewers. Sometimes it's good to get down from our cinematic high horse. Anyone wanna go watch Dude, Where's My Car? in a totally non-ironic way?
Beer for My Horses Quotes
There are no approved quotes yet for this movie.