Beerfest
(2006)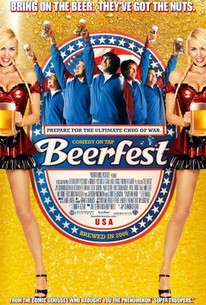 TOMATOMETER
AUDIENCE SCORE
Critic Consensus: Beerfest features some laugh-inducing gags, but is too long and the pacing too uneven to form a coherent, functioning comedy.
Movie Info
When American brothers Todd and Jan Wolfhouse travel to Germany to spread their grandfather's ashes at Oktoberfest, they stumble upon a super-secret, centuries old, underground beer games competition -- "Beerfest," the secret Olympics of beer drinking. The brothers receive a less than warm welcome from their German cousins, the Von Wolfhausens, who humiliate Todd and Jan, slander their relatives, and finally cast them out of the event. Vowing to return in a year to defend their country and their family's honor, the Wolfhouse boys assemble a ragtag dream team of beer drinkers and gamers: Barry Badrinath, the consummate skills player with a dark past; Phil Krundle (aka Landfill), a one-man chugging machine; and Charlie "Fink" Finklestein, the lab tech with a PhD in All Things Beer. This Magnificent Five train relentlessly, using their hearts, minds and livers to drink faster, smarter and harder than they ever have before. But first they must battle their own demons, as well as a bunch of big, blond, German jerks who want to destroy the team before they can even make it back to Munich.
News & Interviews for Beerfest
Critic Reviews for Beerfest
Audience Reviews for Beerfest
½
Yeah it's stupid, and that's why I liked it. Any movie where actor Jurgen Prochnow tells a Das Boot in-joke is alright by me. The title of this film alone tells you exactly the kind of film it's going to be. Beerfest will be about a team of ordinary people practicing and preparing for the ultimate drinking competition. Audiences will be subjected to lots of drinking and lots of games. Some may prefer to be actually doing these things instead of watching characters do them, but Beerfest has a lot of fun with its concept. Anyone who has ever had a crazy binge story can relate to this ridiculously over the top yet hilariously charming film. Also keep in mind that this was written by Broken Lizard, the team responsible for Super Troopers and Club Dread. Both of those previous movies were incredibly dumb but someone help you if you didn't find them funny. Beerfest is right in the same league.
Edward Boxler
Super Reviewer
½
[img]http://images.rottentomatoes.com/images/user/icons/icon14.gif[/img] In recent years we've seen dozens of low brow comedies, back in the 90's when they were first arriving into mainstream taste many of them were surprising, shocking but also quite funny. Beerfest makes a fair attempt at achieving this, but from the opening unfolds as an annoying, pointless attempt at lowest common denominator crude humour caught on camera. In fact worse than knowingly low brow, because it actually thinks that it's smart. Honestly explaining the flaws of this film is even easier than the task of watching it the actors have the worst comedic timing imaginable. I ended up begging for something funny to happen. I mean if a film wants to be shamelessly upfront about how witlessly simple minded it is the jokes need to be hilarious and somehow realistic but the plot of Beerfest, just to call it a plot is innappropriate and non existent. It's basically a sequence of unoriginal and unfunny gags that make countless attempts at raunch but end up coming across as urgently vulgar. The excuse for it's existence is for some rudely fun chorkles but it has the nerve to try and engage with us and tug at our heartstrings. That plot device alone takes up absolutely loads of valuable laughing time and extends the whole affair to a whopping and groan inducingly tiresome 110 minutes. The worst part is that the fratboy characters are likable as they need to be, but that alone is not a good enough excuse to enjoy it as a comedy. Personally I don't think it will become the cult adolescent fantasy that it want's to be but as a person who wanted a decent, crazy, madcap, headstrong comedy to kill some of my free time I felt completely bored and very dissapointed. To be frank the actors appeared to be having a much better time in the film then I was having to watch them, the film seemed to have no value whatsoever apart from being their big, uninteresting and stupidly expensive in-joke.
Directors Cat
Super Reviewer
½
Beerfest is a decent comedy with good laughs. Considering that this was directed by the same guys who made Super Troopers, this film is a bit of a letdown. The film does have good comedic moments, but compared to Super Troopers is less memorable. Beerfest though may have its flaws, but it definitely is a decent comedy to watch with friends. Beerfest is good for what it is, there's never anything great at work on-screen. The film has a few good laughs, but it never succeeds at being a standout comedy flick. Beer fest is a worthy comedy to watch, just don't expect anything great to come out of it. The comedy is decent and is decent, but the filmmakers have made far better films than this. Beerfest is really a film to watch with friends. I found the film to be quite amusing, but it lacked a little something to really make it stand out like Broken Lizard's other comedy, Super Troopers. If you're looking a decent comedy, then this is your film. Although not perfect, Beerfest does have a few good laughs. I enjoyed how silly this film was, but I also thought the film had more potential in being a great comedy. If the filmmakers would have spent a little more time with the script, Beerfest would have been a much better film. This is a fun comedy that should have been much better, nonetheless it still manages to be loads of fun and bring on a few a few laughs. Worth watching if you've enjoyed Super Troopers.
Beerfest Quotes
| | |
| --- | --- |
| Landfill: | Looks like we got the Brits in round 1. We already kicked their ass in WWII. Cheerio, let's do it again. |
| | |
| --- | --- |
| Cherry: | im gonna break your dick off |
| Cherry: | I'm gonna break your dick off! |
| | |
| --- | --- |
| Pim Scutney: | You're all fur coat and no trousers, you are. |
| Steve 'Fink' Finklestein: | I'm sorry, one more time? |
| Rog Gobshire: | Shove off! We're gonna put the skitters in your Alan Whickers, you plonker! |
| Barry: | [looking to Fink] Do you know what he's saying? |
| | |
| --- | --- |
| Landfill: | Who's Barry Badrinath? |