Beethoven's 2nd
(1994)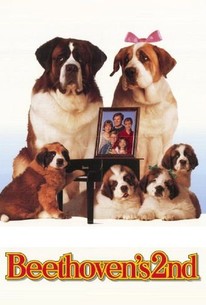 Movie Info
Huge, drooly, and lovable Beethoven the dog once again wreaks havoc on the lives of his family in this sequel. This time he and his beloved Missy get together and provide the Newton family with four equally-mischievous pups, something the children do their best to conceal from their stressed-out parents.
Critic Reviews for Beethoven's 2nd
Audience Reviews for Beethoven's 2nd
The first of many sequels in this stupid franchise. I remember liking the first two films in this series back when they first came out, only because I was like 8 years old at the time of the first two films release. Looking back now, these films haven't stood the test of time, and really insult a kid's intelligence. The films are terrible, and there's been so many better films that the family can enjoy than this tired, unimpressive series. Luckily I stopped caring about Beethoven after this second entry. The film suffers from a poor plot, bad acting, and really doesn't do anything original. The only reason that they green lit this second film was to cash in on the success of the first, that's it. It was clear that no matter how crappy the plot was, how poorly developed the plot and characters were people would go see it. I'm sorry but the Beethoven series is simply a dull, poorly crafted family oriented series. I can name a dozen family films that are better than this. I hated this film and seeing this on TV again, I wondered why I even liked these two films. I guess when you're a kid, you like everything. Beethoven 2nd is a poorly made sequel that just doesn't entertain. This is the type of film that can't be redeemed and this series was doomed from the start. If you enjoy a good family oriented film, rent Toy Story instead. At least that was a great film that was smartly crafted. This film reuses recycled, boring old ideas and doesn't do anything to entertain you. Hell, they pumped out six sequels with the same old ideas. This proves that Hollywood is running out of ideas.
This movie was honestly dreadful, stupid and awful. Any other word also, the book just reads on of terrible words. I can't believe that the creators were thinking that they were making a good family film. It is complete trash!
½
"Beethoven's 2nd" is a good movie, and it's a lot like the original movie. The only difference is that in this one, Beethoven finds a girlfriend and has a bunch of puppies. So George Newton (Charles Grodin) will have even more dogs to roll his eyes at this time around. The children beg their dad to let the new puppies stay until they get grown, and after awhile he agrees. However, not all is smooth sailing for Beethoven, his girlfriend, and the puppies. In ways, this movie might remind you of "101 Dalmatians" because a mean woman and her sidekick are trying to catch the puppies' mom after the woman gets a divorce from her husband, who is the owner of the dog. She might remind you of Cruella De Vil in a way. Beethoven and his family must find a way to keep their puppies and Beethoven safe, just in case the woman decides she wants them too. Some of the best parts of the movie are when Beethoven and the family go to the carnival and he and Mr. Newton enter a hamburger eating contest, and when Beethoven rips down the complete side of a house. The movie isn't as funny as the first one was, but some parts of it were funny, and the whole movie is good. If you like good family or comedy movies, I recommend getting "Beethoven's 2nd." NOTE: That was my Amazon review from the year 2000
Jason Owens
Super Reviewer
Beethoven's 2nd Quotes
There are no approved quotes yet for this movie.