Before I Go to Sleep
(2014)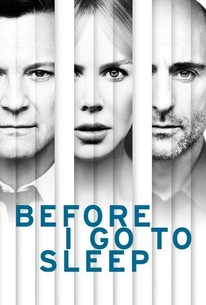 TOMATOMETER
AUDIENCE SCORE
Critic Consensus: If it doesn't completely avoid thriller clichés, Before I Go to Sleep still offers a stylish, fast-paced, and well-acted diversion.
Before I Go to Sleep Photos
Movie Info
A taut thriller based on the worldwide best-selling novel by S.J. Watson, BEFORE I GO TO SLEEP is the story of a woman (Nicole Kidman) who wakes up every day with no memory as the result of a traumatic accident in her past. One day, terrifying new truths begin to emerge that make her question everything she thinks she knows about her life - as well as everyone in it, including her doctor (Mark Strong) and even her husband (Colin Firth). (c) Clarius
News & Interviews for Before I Go to Sleep
Critic Reviews for Before I Go to Sleep
Audience Reviews for Before I Go to Sleep
Okay thriller. I liked it more than the book. But there was something a bit lacking. Not as bad as some reviews imply though. Decent amount of suspense and good acting.
Nicki Marie
Super Reviewer
½
Very interesting concept that gives you the story. The movie itself is a little dull, even boring at times. The acting was good but without the consistency in presentation the film is lacking.
Jarrin Rozenblad
Super Reviewer
"Before I Go to Sleep" starts with Christine(Nicole Kidman) waking up in a bed naked with no idea of where she is, nor who she has woken up next to or pretty much the last fifteen years of her life. As Ben(Colin Firth) introduces himself to her as her husband, he points out that she has amnesia which resets her memory every night and was caused by an auto accident she was in. After Ben goes to work, Christine gets a call from Dr. Nasch(Mark Strong) who tells her that she has been seeing him for the past few weeks and to check the camera at the bottom of her closet for confirmation. Oh, and her amnesia is actually the result of being brutally attacked... More Hitchcock than Nolan, "Before I Go to Sleep" takes full advantage of its limited setting and point of view to effectively tell a creepy mystery that explores Chrstine's past through most of its length. The shame is that at some point the shoe must drop which in this case is a pair of size 12 loafers, confirming some of the uneasy suspicions I had been nursing up to that point. So, while the ensuing revelation and what follows do not entirely work, they do not entirely derail the story either, mostly because of the emotional payoff at the end and the way the movie was cast, especially Nicole Kidman.
Before I Go to Sleep Quotes
There are no approved quotes yet for this movie.