Before the Fall (Tres Días)
(2008)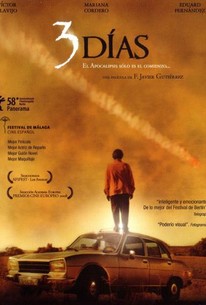 AUDIENCE SCORE
Critic Consensus: No consensus yet.
Before the Fall (Tres Días) Photos
Movie Info
Filmmaker F. Javier Gutiérrez crafts this apocalyptic thriller that finds panic sweeping the world after the Secretary General of the United Nations announces that a meteorite will wipe out all life on Earth in just seventy-two hours. Life as we know it is about to end. Mankind made a good run of it, but now destruction is about to rain down from outer space; wiping the slate clean for a new era. While most folks react to the grim announcement by rioting in the streets, a young man named Ale decides to spend his last three days getting drunk and listening to his favorite records. Ale lives in the remote town of Laguna with his mother, and earns his living by performing a series of thankless odd jobs around town. Now, as crime soars, suicide rates shoot through the roof, and panicked hordes greet Armageddon with guns blazing, Ale's mother Rosa announces that she has decided to spend her final hours with Ale's brother Tomás and his family on the outskirts of town. But the journey to Tomás' house won't be an easy one, because in all the chaos a number of convicts have managed to escape from prison and now set about terrorizing everyone unfortunate enough to cross their paths. One criminal in particular seems intimately tied to Tomás' past. When Rosa arrives at Tomás' home to find the children all alone and cowering in fear, Ale's plans of drinking his way though the apocalypse quickly take a back seat as he races to protect the children from a horrifying fate at the hands of sadistic marauders.
Critic Reviews for Before the Fall (Tres Días)
Audience Reviews for Before the Fall (Tres Días)
½
In "Before the Fall," Ale(Victor Clavilo) is a grown man who lives at home with his mother Rosa(Mariana Cordero). Otherwise, he works as a handyman, like fixing the television at the bar. And then almost wishes he hadn't when there is a news flash about a giant asteroid on its way to earth. At first there is hope but that is gone when Bruce Willis is not available. So, the authorities wish everybody luck with the rest of their lives which should be about 82 hours. As everybody heads in the direction of the mountains for shelter, Rosa drags her son in the other direction, citing a long forgotten threat to her other son's family while not informing them exactly what is up. To its credit, "Before the Fall" gets off to a fine start and ends with a nice moment, with its bleached out photography giving it a unique look. However, in between, along with its tale of disaster, the movie also references "High Noon," a serial killer and Hitchcock's films, proving that it is never too late for cliches or to work out one's issues. Honestly, there is no chance of being concerned for the characters' safety if they are doomed anyway. Even then, there is one chance that the movie could have worked and that is if it was told entirely from the children's point of view, heightening the mystery and suspense dramatically. After all, Ale is not really that interesting a character.
I thought this movie was VERY cool! And the cinematography was awesome. It was suspenseful. Gritty. Everything I love in a movie. And most definitely not at all what I expected. I thought I was gonna be watching another doomsday movie, and it was sooooo much more.
Cynthia S.
Super Reviewer
Before the Fall (Tres Días) Quotes
There are no approved quotes yet for this movie.