Beggars of Life
(1928)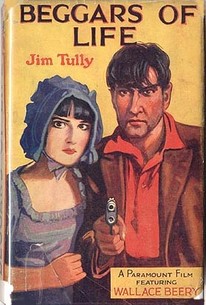 AUDIENCE SCORE
Critic Consensus: No consensus yet.
Movie Info
Wallace Beery appeared in this silent film with intertitles, a dark drama of hobo life. Jim (Richard Arlen), a wanderer, comes upon young Nancy (Louise Brooks), who has just killed the guardian who was trying to rape her. Disguised as a boy, she takes off with Jim and rides the rails to a hobo camp led by Arkansas Snake (Robert Perry). When Oklahoma Red (Beery) takes over the camp, he begins to pursue Nancy, but before he can take her from Jim, the detectives show up to arrest her. He engineers a daring escape that nearly kills them all, but allows Nancy and Jim to get away -- but Red is still interested in her, and still following them; as resourceful as ever, he steals a car and some girl's clothes for Nancy, to throw the police off the trail, and tries to convince Jim to light out on his own. When he sees how much they actually love each other, however, he suddenly decides to let them go. But Red knows that the police won't give up their pursuit of an accused murderer, unless they think she's dead -- and he plans one last, very risky ruse to get the detectives to walk away.
Critic Reviews for Beggars of Life
All Critics (3) | Top Critics (1) | Fresh (3) | Rotten (0)
Though the sentimental spark of love may conquer all, Wellman leaves a sour air of disgust on the dusty trail.
Here, Beery is undeniably the star; taking a gruff, lecherous character like Oklahoma Red, and turning him into an unlikely hero.
Audience Reviews for Beggars of Life
This was made near the end of the silent era around the same time that Louise Brooks made her German films. I had the opportunity to see this at the Cleveland Cinematheque and did enjoy this trip back in time. William Wellman, the director, had quite a prolific career and shows solid skills here. Richard Arlen had a long career acting, but is not well known today since he appeared mostly in genre action pictures. He is a likable leading man, who also stars in Island of Lost Souls, which I watched a month after this. Wallace Beery is an actor I love. To judge him on surface appearances, you would expect him to always play intimidating and dumb and drunk. He does often play characters like that, but can surprise you with deeper expressive emotions and a big heart. Louise Brooks did not have a long film career, but became an iconic flapper. Disguising herself as a boy to travel the rails with hobos and escape her abusive past fits her persona as a scrappy modern girl so well. The scene where she "plays house" with the only outfit she can find in a little cottage hideout, a gingham dress with bonnet, is so far from her normal character. The little farmhouse homemaker is such a weird look for her, and that I think is the point. This movie is based on a book by a guy who did travel like a hobo on trains looking for work, looking to find a new life. The Great Depression had not hit yet, but it is interesting to get a glimpse at how poor, unemployed, fugitives survived in America just before a lot more people experienced unemployment. This like many films from the end of the silent period show peak storytelling and technical ability.
Byron Brubaker
Super Reviewer
½
A little thin on plot, but seeing Louise Brooks helps make up for that. We feel her vulnerability and the danger of rape that she faces from the scowling men in the film, first her adoptive father, and then a group of hobos she meets while on the run with Richard Arlen. Director William A. Wellman does a good job of making us feel the grit and grime of this world, and gives quite a few train stunts as well, with people jumping aboard moving trains, decoupling cars, and slipping off perilously at various times. In her auto-biography â~Lulu in Hollywoodâ(TM), Brooks says that Wellman convinced her to take the place of her stunt double and hop aboard a fast-moving boxcar and that it nearly sucked her under its wheels, so it was interesting to look for that scene. The film loses momentum in the middle and has some silly scenes with the hobos (a free-for-all and a mock trial come to mind), but finishes reasonably well, and has a touch of sweetness to it. Watch it for Brooks, and Wellmanâ(TM)s train scenes.
Antonius Block
Super Reviewer
½
a gritty and fascinating study of hobo life on the rails. louise brooks plays a girl who kills her abusive guardian and goes on the run dressed as a boy in the company of a young tramp. their journey through hobo jungles and hopping freights was mostly filmed on location with some great stuntwork. this was an experimental sound film but the brief talking sequences, and even a song by wallace beery, are now lost. wellman reportedly invented the boom mike on this picture. a forerunner of the depression era cinema and louise turns in an affecting performance, considered her best in an american film. it was her biggest part to date and her last before leaving for europe to make her mark in the films of georg wilhelm pabst. this film is on the internet archive in decent quality
Stella Dallas
Super Reviewer
Beggars of Life Quotes
There are no approved quotes yet for this movie.