Beginners
(2011)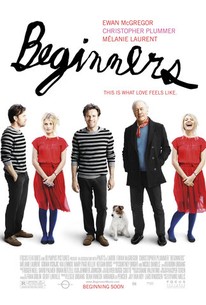 TOMATOMETER
AUDIENCE SCORE
Critic Consensus: Wearing its twee heart on its sleeve, Beginners explores the depths of modern, multi-generational romance with wit and depth.
Movie Info
Beginners imaginatively explores the hilarity, confusion, and surprises of love through the evolving consciousness of Oliver (Ewan McGregor). Oliver meets the irreverent and unpredictable Anna (Mélanie Laurent) only months after his father Hal (Christopher Plummer) has passed away. This new love floods Oliver with memories of his father who - following 44 years of marriage - came out of the closet at age 75 to live a full, energized, and wonderfully tumultuous gay life. The upheavals of Hal's new honesty, by turns funny and moving, brought father and son closer than they'd ever been able to be. Now Oliver endeavors to love Anna with all the bravery, humor, and hope that his father taught him. -- (c) IFC
News & Interviews for Beginners
Critic Reviews for Beginners
Audience Reviews for Beginners
½
How can anyone learn to love or love freely when we all come from such flawed backgrounds, when no one knows how to love? This work intelligently explores this dynamic with two souls who come together specifically because of their tangled roots and their innate distrust of even themselves. Put this on a double feature with The Eternal Sunshine of Spotless Mind.
Kevin M. Williams
Super Reviewer
½
Independent cinema can range from a student film with not a single dollar to its budget, to an Oscar-nominated film worth 40-50 million dollars. As long as its not backed by one of the wide distributors worldwide, its technically an indie film. That being said, Beginners is about as indie as indie gets when comparing it to some of the wider releases. While this is not a difficult film to sit through, it may not appeal to everyone. Independent films have always been able to tell simpler and more bizarre stories, due to the fact that they are not relying on a big box office return in order to make their film. This is a sweet 100 minute film about life and accepting certain things throughout it. Released back in 2010, there is a reason it didn't win too many awards, but that doesn't take away from the fact that I believe it to be a very enjoyable piece of filmmaking. If you are a fan of cinema and have yet to see Beginners, here is why I think it's worth your time. Following Oliver, a 38-year-old man who is living with a recently tortured past, as he falls in love one more time, the film begins to explore what has given him such grief over the past few years. Having his mother pass away after being married to his father for over 45 years, to then find out his father had actually been gay the entire time, to having to accept him falling for another man, to then having to take care of him as he passed away four years later, Ewan McGregor delivers a wonderfully sincere performance here. In a film that desperately needs its leading man to deliver the goods, McGregor was perfect casting decision. This film deals with a lot of heartbreak, but that's life, right? Unlike films like Blue Valentine or the recent Manchester by the Sea (films with hardly any levity), the romantic aspect is truly the only thing giving life to this saddening premise. Beginners is a very heartfelt story about to unlikely people falling in love, while the past is looming over them like a bad disease. It's definitely not a film that warrants many viewings, but it's a nice treat for independent film fans. To me, in order to balance a film perfectly, there has to be an even amount of happy to go along with the sad. This film does that in spades, which is why I enjoyed it so much. That being said, the main issue I have with this film is in its simplicity. Sure, some people may find the fact that a 75-year-old man falling in love with a 35-year-old man to be risky territory, but if you are willing to explore an aspect like that, why not go for it? Their relationship is not explored enough in my opinion, leaving little to no impact on me for the future setting of this film. Flashing back and forth through time to show how our main character got to be where he is, I found the present day more interesting than the past, due to the fact that the interesting portions of the past feel incomplete and not fleshed out enough. Beginners is a very ambitious film in the way it tells its story, but fails to impress all that much. In the end, Beginners is a very important story that more people need to see. It went under the radar upon release and I believe quite a few people missed it. Without much awards consideration, it still accumulated quite a few positive reviews. I think this is a very solid film worth checking out. With great writing for each character on-screen, some fine directing, and a premise that takes a few chances (even though not nearly enough), this is s piece of cinema worth checking out. I don't see myself ever coming to love this film in the future, but I would definitely consider a few viewings to revisit these likeable characters. Beginners is a solid watch.
½
This is certainly not a comedy (the sense of humor doesn't work that well), and I found it sad and depressing, contrary to those who thought it was sweet and optimistic. Besides, the characters seem too shallow in their artificial indie quirkiness and the dialogue is very annoying.
Carlos Magalhães
Super Reviewer
Beginners Quotes
| | |
| --- | --- |
| Hal: | I said - look I love you and we're great buddies but you know what I am. And then she says, that doesn't matter. I'll fix that. |
| Hal: | I said look I love you and we're great buddies but you know what I am. And then she says, that doesn't matter. I'll fix that. |
| | |
| --- | --- |
| Young Oliver: | This music's old. |
| Young Oliver: | This music's old. |
| Georgia: | It's black, black music is the deepest cause they suffeIn my next life I'm gonna marry a good hot blooded Jew - someone full of emotion. red the most, them and the Jews. |
| Georgia: | It's black, black music is the deepest cause they suffeIn my next life I'm gonna marry a good hot blooded Jew - someone full of emotion. red the most, them and the Jews. |
| Oliver: | I'm Jewish right? |
| Georgia: | You're a quarter, I'm a half, your father's none. He has the least emotions, You'll have more emotions than him, but I'll have the most emotions. |