The Beguiled
(1971)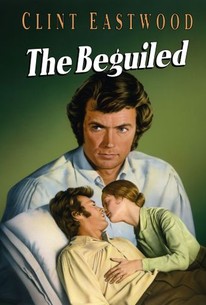 Movie Info
In this film, Clint Eastwood plays a wounded Union soldier during the Civil War who takes refuge in a prim Southern girl's school overseen by Geraldine Page. He soon discovers that the ladies' hospitality had a hidden agenda: the love-starved students wish to use Eastwood as a nonstop sex machine.
News & Interviews for The Beguiled
Critic Reviews for The Beguiled
Audience Reviews for The Beguiled
Simply a wonderful take on the man-alone-in-a-harem theme, Clint plays a wounded Union soldier incapacitated in a Confederate seminary for young ladies. He's outstanding as the silver tongued cad who will say anything to bed a woman, woman who are desperate for the company of men in any case. Especially good is the decision to highlight the different approaches the ladies take to reach the same goal. Just a fun time at the movies.
Kevin M. Williams
Super Reviewer
Wow Clint Eastwood took full advantage. Women and Clinteastwood in his youth. Sorrounded from teenagers to well lady`s? And he had them all. It is actually a very interesting Drama, very unusuall for the Movie with Clint Eastwood which I have seen.
LEARN THE MEANING OF SCORNED WOMAN!
½
This powerful drama centering around the effect which the arrival of a wounded civil war soldier has on a house full of women is probably Don Siegel's finest achievement, and is yet another example of Eastwood's willingness to break new ground and tackle new genres. It is also, perhaps, the finest acting performance of his career. His presence in the house releases not only deeply repressed sexual urges in the women who are helping him to recover from his wounds, but a sexually competitive frenzy which becomes ever more dangerous and frightening.
Cassandra Maples
Super Reviewer
The Beguiled Quotes
There are no approved quotes yet for this movie.