Being Flynn
(2012)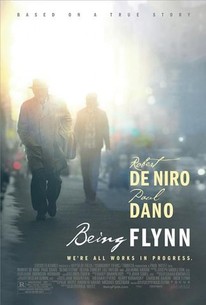 TOMATOMETER
AUDIENCE SCORE
Critic Consensus: Robert De Niro gives a sincere, gripping performance, but Being Flynn is an uneasy mix of drama and comedy that fails to emotionally resonate as a whole.
Movie Info
Writer-director Paul Weitz turns his hand to this moving portrait of fathers and sons. Based on a true story, Being Flynn follows Nick Flynn (Paul Dano) who is shocked to have his eccentric and long-absent father, Jonathan (Robert De Niro) reach out to him unexpectedly. Still feeling the loss of his mother (played in flashbacks by Julianne Moore) in the midst of starting a new relationship with Denise (Olivia Thirlby), the last person Nick wants to see is his father. But you can't outrun fate and slowly Nick comes to realize he has been given the chance to make a real future not only for himself, but for his struggling father too. -- (C) Focus
News & Interviews for Being Flynn
Critic Reviews for Being Flynn
Audience Reviews for Being Flynn
"First off, great cast. I really liked more then half of the actor's in this and I was really wanting to see this movie. The story is depressing. The father and son are very much alike. They are both writers, loners, and dependent on substances to help them deal with life. Things really start getting ugly when Jonathan starts staying at the homeless shelter his son, Nick works at. Nick is embarrassed of Jon and wants nothing to do with him and even pleads with him numerous of times to, please leave. But Jon seems to think since he created Nick he has a right to him. It's as dysfunctional as it gets in this father and son tale. I did enjoy the movie and the story being told. I really think Dano and De Niro did a fantastic job. All the acting was good. A solid film."
♥˩ƳИИ ƜѲѲƉƧ♥
Super Reviewer
½
Based on his memoirs, this is the story of Nick Flynn- a burgeoning writer who is struggling to find his place in the world. His mother committed suicide, and he hasn't seen his wayward con of a father in 18 years. Nick takes a job at a homeless shelter to aid in his quest for meaning, and one day happens upon his father who becomes a quest at the shelter. From there the film shifts its focus back and forth between Nick and his dad, both trying to live their lives. It all sounds like this could have been a rather sentimental film, and, while there is a tad bit of that in there, it's mostly unglamorous, not very sentimental, and rather bittersweet and melancholy. and make something of themselves, and both struggling to deal with the past and their current realities and fractured relationship with one another. It's also rather disjointed and unsure of itself at times. I applaud writer/director Paul Weitz for trying his hand at some mildly challenging material, but it feels like he never finds steady ground or confidence with this material all that often. He does have some major cojones for having his film start out with De Niro driving a taxi into the mean streets of NYC, though. As interesting as the character of Jonathan Flynn is, the movie is supposed ot be Nick's story, with Jonathan as a major supporter. When the film is solely focused on Nick, it's great, but when Jonathan becomes the main focus, the film isn't as good, and feels all over the place. However, this is still a really good story, and it's a fascinating look into the world of homelessness. Some of the best material has to be when Nick explains the day to day operations of things at the shelter, and it very much reminded me of those moments from some of Scorsese's mob movies that detail the daily operations of the criminal underground. This film even has a decent amount of voiceover! Man, Weitz really does have a lot of guts! Anyways, this film might be flawed, but it's still pretty good. What ultimately saves it are the performances. Dano is quite believable as the conflicted and lost Nick, and this is another example of how he is one of the best actors of his generation. Olivia Thirlby is also quite strong as Nick's 'love interest', a fellow employee at the shelter with a troubled past of her own. It was also nice seeing Wes Studi again, perhaps the first new film I've seen him in since perhaps the 90s maybe. Julianne Moore is also pretty good in her limited but important role as Nick's mom. And what about De Niro? Well, this is probably one of, if not the best performance of his is about a decade or so. He's great at conveying the delusions and frustrations of the angry, bitter, and unhinged Jonathan. He kinda goes off the deep end a bit much here and there, and this is far from a career best for him, but it's miles better than the bulk of what he's done recently. All in all, I do recommend this. It's got its problems, and barely scrapes by, but it is entertaining, and has some great performances, so I think that's enough to warrant a watch.
Chris Weber
Super Reviewer
½
"Being Flynn" succeeds at making some very interesting observations about the burdensome relationship between parent and offspring, but for a film that deals with some very heavy subject matter (including drugs, homelessness, insanity, and dysfunctional families), it feels oddly weightless, fleeting, and ultimately a missed opportunity.
Sam Barnett
Super Reviewer
Being Flynn Quotes
| | |
| --- | --- |
| Jonathan: | "One writer to another. I don't care how good a writer you are, you can't kill someone with words. |
| Jonathan: | One writer to another. I don't care how good a writer you are, you can't kill someone with words. |
| | |
| --- | --- |
| Jonathan Flynn: | life is gathering material |
| Jonathan Flynn: | Life is gathering material. |
| | |
| --- | --- |
| Jonathan Flynn: | Of course, writers, especially poets, are particularly prone to madness. |
| | |
| --- | --- |
| Jonathan Flynn: | I'm Jonathan Flynn. Everything I write is a masterpiece. |