Being John Malkovich
(1999)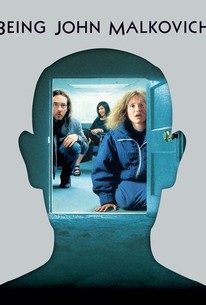 TOMATOMETER
AUDIENCE SCORE
Critic Consensus: Smart, funny, and highly original, Being John Malkovich supports its wild premise with skillful direction and a stellar ensemble cast.
Being John Malkovich Videos
Being John Malkovich Photos
Movie Info
Would you pay money to journey into the mind of the star of Con Air, The Killing Fields, and In The Line of Fire? Puppeteer Craig Schwartz (John Cusack) is having money problems, so he takes a temporary job as a file clerk on the seventh-and-a-half floor of a large office building. One day, while rummaging behind a cabinet, he finds a small door that leads to the center of the mind of actor John Malkovich (played by, you guessed it, John Malkovich). Craig discovers that entering the portal allows him to become John Malkovich for a brief spell, and in time he and his beautiful but aloof co-worker Maxine (Catherine Keener) get the bright idea to charge admission for the privilege of spending 15 minutes inside the head of a well-known actor. Malkovich realizes that something strange is happening to him, but can do little to stop it, as strangers take over his mind for a quarter-hour at a time. Craig's wife, Lotte (Cameron Diaz), eventually takes a trip into Malkovich's psyche, and she soon finds herself in love with Maxine, with whom Malkovich has an affair; meanwhile, Maxine in time becomes infatuated with both Craig and Lotte, but only when they're inside Malkovich. Being John Malkovich marked the feature-length debut of director Spike Jonze, who previously made acclaimed music videos for Weezer, the Beastie Boys, and the Breeders, among others. ~ Mark Deming, Rovi
News & Interviews for Being John Malkovich
Critic Reviews for Being John Malkovich
Audience Reviews for Being John Malkovich
½
A strange, existential, and ultimately disconcerting film that just gets weirder and weirder. Major points for Spike Jonze and Charlie Kaufman for originality, but the film's atmosphere and mood are just so dismal. The film is almost saved by Malkovich's performance in second half, but the film remains too drab to provide enough reason to love it. A lot of originality and uniqueness (as well as strangeness) to offer, but not enough entertainment value. There is no comfortable balance between the two.
Kase Vollebregt
Super Reviewer
½
[img]http://images.rottentomatoes.com/images/user/icons/icon14.gif[/img] Spike Jonze's wittily-written, incredibly acted comedy drama about a disgruntled but ambitious puppeteer who to his amazement finds a peculiar, mystical portal into the mind of John Malkovich, is a brilliantly surreal and mind boggling experience. It's profoundly original dream-like narrative exploring humanities selfishness and one's desire to be something else makes it consitently entertaining and builds up to an utterly unforgettable cinematic experience. Charlie Kaufman's clever yet non self-indulgent script creates some very awkward but hilarious situations for the characters and flawlessly disguises the insane fableness and fantasy of the story and it's characters infinitely believable. He went on to work with director Michel Gondry and wrote his masterpiece; Eternal Sunshine Of The Spotless Mind, which I think is one of the best films ever made. He is arguably one of the most talneted art-house writers out there today and although he makes very few films the one's that he does work on are always brilliant. In the interesting case of Being John Malkovich, performance-wise it is perfect, Cameron Diaz and John Cusack advertise some fantastic chemistry, but the greatest stand-out is easily John Malkovich who is just perfect and undeniably engaging at being/playing John Malkovich. Catherine Keener is also great as the bitterly inhuman anti-hero, and Jonze's outstanding direction nails the film as a landmark. I think it's one of the best directorial debuts of all time, and if your not laughing at it, or being moved by it, you'll certainly be admiring it. It's a strange and emotionally detatching screen presence but in my opinion it's one of the best of it's kind. Endlessly fascinating and completely extraordinary.
Directors Cat
Super Reviewer
Lotte Schwartz: I think it's kinda sexy that John Malkovich has a portal, y'know, sort of like, it's like, like he has a vagina. It's sort of vaginal, y'know, like he has a, he has a penis AND a vagina. I mean, it's sort of like... Malkovich's... feminine side. I like that.  "Ever want to be someone else? Now you can." Charlie Kauffman's and Spike Jonze's first team up is a complete masterpiece. This is a movie unlike any you have ever seen and is only equaled in brilliance and originality by another film that was written by Kauffman, Eternal Sunshine for the Spotless Mind. Being John Malkovich is a bizarre, eccentric, out in outer space film that is sure to turn some people off based purely on just how weird a film it is. For those who love bizarre, when it is genius, will love this one.  Craig Schwartz is a puppeteer, but there isn't much demand for his profession, so he has to take a job as a filer. While there, he finds a small door behind a filing cabinet and enters. Turns out that door is a portal into John Malkovich's mind. He teams up with a beautiful co-worker, who he is smitten for and starts selling trips into Malkovich's mind at $200 a pop. There's a lot of weirdness going on including a secretary that can't understand a word anyone says, an office on the 7 1/2 floor that is half the height of a normal floor, and a love... square.  Describing a film like Being John Malkovich is a hard thing to do. People who love, don't see it as just a weird movie, while people who hate it see it only as that. With all the weird stuff that is going on in Kauffman's screenplay, there is just as much intelligent stuff going on. Most of it is the same. There's something altogether brilliant about every single thing going on here. From looking into the mind of a chimp to having a setting placed on a floor that isn't really a floor to Keener's character being in love with Diaz's because she senses Diaz's presence in Malkovich's when they make love. You can't help but just be swept up by it all. Or at least I can't.  If you're familiar with Kauffman's and Jonze's other works, you know that both of them are in love with the bizarre. So when they get together for movies like this and like Adaption, the end result is no less than warped, but also no less than amazing.  If you want to watch something truly original in just about every facet; this is a must watch. If you don't like movies that are trying to do something outside of the routine, boring movies that are mass made each year, don't watch it. For those who can accept the films eccentricity, you'll find a movie that is made with pure imagination and love. Being John Malkovich is easily one of my favorite movies of all-time. I could watch it a thousand times and still love every single moment of it.
Melvin White
Super Reviewer
Being John Malkovich Quotes
| | |
| --- | --- |
| Lotte Schwartz: | Suck my dick! |
| | |
| --- | --- |
| Larry the Agent: | Sorry about the cunt in reception |
| Larry the Agent: | John! Great to see you! Sorry about the cunt at reception. |
| | |
| --- | --- |
| John Malkovich: | It's my head, Schwartz! It's my head! |
| | |
| --- | --- |
| Maxine Lund: | I think the world is divided into those who go after what they want and those who don't. The passionate ones, the ones who go after what they want, they may not get what they want, but at least they remain vital, you know? So when they lie on their deathbeds, they have few regrets. |
| Maxine Lund: | I think the world is divided into those who go after what they want and those who don't. The passionate ones, the ones who go after what they want, they may not get what they want, but at least they remain vital, you know? So when they lie on their deathbeds, they have few regrets. |