Belle Epoque (The Age of Beauty)
(1992)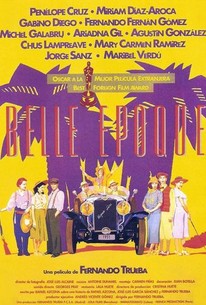 Belle Epoque (The Age of Beauty) Photos
Movie Info
After striking a responsive chord at the Berlin Film Festival, Fernando Trueba's Belle Epoque (aka Age of Beauty) went on to win 9 Spanish Goya awards and an Academy Award for "Best Foreign Film." Set in pre-Franco Spain, film stars Jorge Sanz as Fernando, a carefree, pacifistic army deserter. Wandering about the countryside, Fernando is welcomed into home of the wealthy Don Manolo (Fernando Fernan Gomez). Far from upset by the boy's AWOL status, Manolo is delighted because he shares Fernando's political philosophies. What follows is sheer heaven for the peaceloving lad, who sits smilingly on the sidelines as Manolo's four voluptuous daughters (Adrian Gil, Maribel Verdu, Miriam Diaz-Aroca, and Penelope Cruz) literally fight for his attentions.
Critic Reviews for Belle Epoque (The Age of Beauty)
Audience Reviews for Belle Epoque (The Age of Beauty)
½
Award winner for best Foreign movie, Belle Epoque was a light romantic comedy, easy to watch, and easiy to like.It was set in the glorious time of Spain, before Franco and it was beautifully filmed and acted.The story started with a young soldier,who deserted and became friends with an old man who was an artist, a republican and had 4 beautiful daughters.As the movie progressed you get a glance of how this young soldier got involved with each one of them. Belle Epoque was one of those movies that reached its purpose ,a celebration of love and romance and funny stories of a young soldier controlled by his sexual desire. Besides the amusing and clever dialogue,great scenery, it had some beautiful Spanish actresses put into one movie, don't miss it.
Daisy Maduro
Super Reviewer
A rollicking good bedroom farce. Fernando (Jorge Sanz), an army deserter just prior to the outbreak of the Spanish Civil War, finds himself the beneficiary of the hospitality of Manolo (Fernando Fernan Gomez). The arrival of Manolo's four lovely daughters sets the story in motion. A young Penelope Cruz plays Luz, the youngest daughter. Rocio (Maribel Verdú) is being wooed by a young man from the village. Violeta (Ariadna Gil) is the mannish second eldest who was raised as a boy until puberty. And Clara (Miriam Diaz Aroca) is the eldest, a widow whose husband drowned in the river the previous summer. Think of all the old farmer's daughter jokes and you begin to see the possibilities here. Which young beauty will Fernando choose? Each of the women take their turn, and the lack of sibling jealousy is remarkable. Several laugh out loud moments throughout. The arrival of the girls' mother (an opera singer) with her manager sets the final series of events in motion. And in the end, everyone seems content as Manolo is left alone again in the village. One can get a glimpse of the star quality of Miss Cruz here, before Hollywood got her in its clutches. All of the girls are quite lovely, but Penelope practically glows. Excellente!
Mark Abell
Super Reviewer
Belle Epoque (The Age of Beauty) Quotes
There are no approved quotes yet for this movie.