Belle of the Yukon
(1944)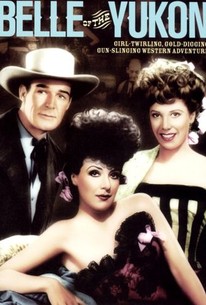 AUDIENCE SCORE
Critic Consensus: No consensus yet.
Belle of the Yukon Photos
Movie Info
Belle Of The Yukon is standard backstage musical fare, featuring Randolph Scott as a reformed con man who has fled north from the law and opened a successful dancehall/ gambling establishment in the upper reaches of Malamute. Meanwhile, his former lover Belle (Gypsy Rose Lee), who he deserted when he went on the lam, arrives as part of a new show troupe and finds her ex-boyfriend's new ways powerfully attractive. But Lettie Candless (Dinah Shore) also has designs on our hero. A thin plot and light characterizations are kept afloat by bouncy performances, glitzy production, and the usual clutch of sprightly musical numbers.
Critic Reviews for Belle of the Yukon
Audience Reviews for Belle of the Yukon
½
Colorful minor musical is of interest mostly as a chance to get a glimpse of Gypsy Rose Lee in one of her few movie appearances. She offers a pleasant performance, nothing special but full of personality. It also has some eye popping costumes in vivid Technicolor and Gypsy's hair is done up in some truly gravity defying styles thoughout. Dinah Shore doesn't make much of an impression, her high sweet thin voice is put to service on some forgettable songs but in the acting department she is woeful. Fortunately the supporting cast of old pros is there to prop up the shaky leads with Florence Bates, usually cast as stuffy matrons, fun as Gypsy's flashy traveling companion.
Belle of the Yukon Quotes
There are no approved quotes yet for this movie.