Below
(2002)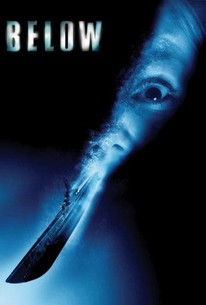 Movie Info
Reflecting studio executives' taste for material that crosses genres, this film from director David Twohy and co-screenwriter Darren Aronofsky mixes the war movie and supernatural thriller genres. After they rescue a trio of survivors that includes a nurse, Claire Page (Olivia Williams), from a British hospital ship sunk by the Nazis, the crew of the American submarine U.S.S. Tiger Shark comes to believe that their vessel is haunted. The unexpected death of their commander forces first officer Lt. Brice (Bruce Greenwood) to take command, trying to avoid a German destroyer on the hunt for his ship, while investigating the series of mysterious incidents that are terrifying his crew. Is the Tiger Shark haunted, or is there something otherworldly inhabiting the waters where the sailors are currently trapped? Originally entitled "Proteus," this project was slated to be Aronofsky's follow-up to Pi (1998), but the writer/director opted to helm Requiem for a Dream (2000) instead. Below co-stars Scott Foley, Zach Galifianakis, Dexter Fletcher, and Holt McCallany.
Audience Reviews for Below
Twohy does a great job (mainly in the first hour) in slowly building an absorbing mystery in this claustrophobic mix of horror and war movie (like Das Boot meets The Shining), even if later on it is weakened by stupid plot holes and a silly attempt to sound profound in the end.
Carlos Magalhães
Super Reviewer
Good mixture of horror and war. Spooky goings on aboard a submarine during WWII, which is being stalked by a German destroyer as well as whatever is on board with them.
Stuart Brooks
Super Reviewer
"Six hundred feet beneath the surface terror runs deep" In the dark silence of the sea during World War II, the submarine U.S.S. Tiger Shark prowls on what should be a routine rescue mission. But for the shell-shocked crew, trapped together in the sub's narrow corridors and constricted spaces, this is about to become a journey into the sensory delusions, mental deceptions and runaway fear that lurk just below the surface of the ocean and deep inside the human psyche.
REVIEW
'Below' is actually three genres, an ultra-realistic WWII submarine adventure, a tense psychological mystery thriller, and a horrific ghost story. That the horrific ghost story portion is no where near as effective as the other two doesn't degrade writer-director David Twohy's achievement. It might, however, partly explain the movie's abysmal box office (less than $500,000; the sets probably cost more than that) . Twohy struggles a bit trying to integrate the genre elements. He needed have bothered. Jettisoning the ghost story entirely wouldn't have hurt the film. The three most horrific scenes don't involve the supernatural at all. One involves the sub sitting on the shallow bottom and being torn to pieces by huge hooks attached to a destroyer's anchor chain (Never seen that before; it's frighteningly plausible). The second involves divers being surprised by a school of big manta rays. The third is searching for survivors in darkened compartments incinerated by a blast of escaping hydrogen from the ship's depleted batteries. 'Below' is cast with a crew of very competent unknowns, such as Bruce Greenwood and Matt Davis. Olivia Williams is probably the most familiar face. However, even she looks considerably different here. The use of unknowns works well for a submarine movie, slightly less so for a mystery. However, it doesn't work well at all for a ghost story, especially considering the large cast, since some two similar faces become confusing. Further Twohy should have studied James Wong's terrific directing of 'Final Destination'. Wong correctly let unseen forces create create his horror rather than shock ghost effects. Twohy does get it right, however, in a scene when one officer studies his own movements in a mirror and finds his reflection is not the same. This scene creates a whole new spin on the classic Marx Brothers scene in 'Duck Soup'. It's the scariest supernatural bit in the whole movie.
Lorenzo von Matterhorn
Super Reviewer
Below Quotes
| | |
| --- | --- |
| Lt. Brice: | Try not to fraternize with the men. They can be a little... strange. |
| Claire Page: | Strange, as in superstitious? |
| Lt. Brice: | As in "strange." |
| Lt. Brice: | As in 'strange.' |
| | |
| --- | --- |
| Hoag: | Three redcoats... and guess what? One of 'ems a bleeder! |
| | |
| --- | --- |
| Lt. Brice: | Now I realize why he didn't kill me too. He didn't have to. |
| | |
| --- | --- |
| Lt. Brice: | Mister Loomis, where's our crew? |