Belphégor - Le fantôme du Louvre (Belphegor, Phantom of the Louvre) (Belphecor: Curse of the Mummy)
(2001)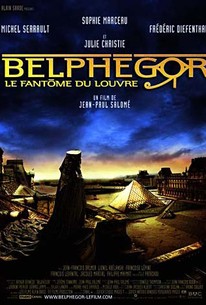 AUDIENCE SCORE
Critic Consensus: No consensus yet.
Belphégor - Le fantôme du Louvre (Belphegor, Phantom of the Louvre) (Belphecor: Curse of the Mummy) Photos
Movie Info
The story of a vengeful ghost (which spawned both a popular silent thriller and a mid-'60s TV miniseries that drew record ratings in France) returns to the big screen in this adaptation of the story by Arthur Bernede. A collection of artifacts from an archeological dig in Egypt are brought to the famous Louvre museum in Paris, and while experts are using a laser scanning device to determine the age of a sarcophagus, a ghostly spirit escapes and makes its way into the museum's electrical system. Museum curator Faussier (Jean-Francois Balmer) brings in a noted Egyptologist, Glenda Spencer (Julie Christie), to examine the findings, and she announces that the mummy inside the coffin was actually the evil spirit Belphegor. Lisa (Sophie Marceau), who lives across the street from the museum, follows her runaway cat into the museum after closing time, where she is accidentally given a shock that sends the stray spirit into her body. Soon, Lisa is disguising herself as Belphegor and making off with the rare Egyptian treasures on display at the museum, convinced that they are rightfully hers. When "Belphegor" proves more than a match for the Louvre's security forces, renowned detective Verlac (Michel Serrault) is brought out of retirement to find out why the museum's Egyptian collection has been shrinking. Belphegor: Le Fantome Du Louvre enjoyed the distinction of being the first feature film to be shot in part inside the world-famous museum. ~ Mark Deming, Rovi
Critic Reviews for Belphégor - Le fantôme du Louvre (Belphegor, Phantom of the Louvre) (Belphecor: Curse of the Mummy)
All Critics (3) | Fresh (0) | Rotten (3) | DVD (5)
Só há uma coisa boa com relação a este filme: suas cópias em DVD e VHS são vulneráveis ao fogo e a golpes de marreta.
November 11, 2003 | Rating: 1/5
Nunca vi los episodios de TV, pero parece que -definitivamente- hubiera sido mejor verlos en vez de meterme a la sala de cine y soportar esta cinta.
July 29, 2002
Audience Reviews for Belphégor - Le fantôme du Louvre (Belphegor, Phantom of the Louvre) (Belphecor: Curse of the Mummy)
½
A box-office hit in France, at least their version of The Mummy meets Night In The Museum boasts a setting among many of the greatest artworks of the world. Otherwise this is one big fat laughably ridiculous mess! Somehow an Egyptian mummy's spirit infiltrates the electrical system of the Louvre, then later possesses the body and mind of ever beauteous Sophie Marceau. Guards and service personnel are killed nightly by "the phantom" but the museum is not closed for the flimsiest reasons, and no further precautions are taken to stop the mayhem. Two civilians wander at will through dangerous restricted construction areas under the city without anyone even telling them so much as to put on a hardhat. Sophie and Frederic Diefenthal the electrician she meets have a good rapport, but too often she's sent into a zombified stupor under the control of Belphegor. If not for getting a brief flash of her fabulous French fanny, one would feel really cheated.
Doctor Strangeblog
Super Reviewer
Out of all the Mummy movies and Indiana Jones type movies this unknown but excellent film is about one of the best I've seen with a host of not known stars here in the US. Enjoyable from start to finish 4 stars 9-13-12
Bruce Bruce
Super Reviewer
Ghost of a Mummy haunts the Louvre. The CGI ghost is not very impressive at all, and since none of the characters can actually see it, it's pretty pointless. Just the audience are treated to poorly rendered effects. On top of that we have some bizarrely outdated, at times laughable, effects. A ghost on wheels to give the impression of floating. Running down the stairs with constant fade effects. This is the kind of stuff they used in silent movies. Effects aside, the story isn't much better. A phantom mummy haunts the Louvre in order to acquire the artifacts it needs to go into the afterlife. There isn't much going on in terms of character,and by the end it's hard to care what happens. Here is a spirit trapped in the world of the living, but it's a malevolent spirit that kills. Also, it only kills characters we don't know, so it's hard to connect. Simple and not very effective. Luckily, Marceau is beautiful.
Luke Baldock
Super Reviewer
Belphégor - Le fantôme du Louvre (Belphegor, Phantom of the Louvre) (Belphecor: Curse of the Mummy) Quotes
There are no approved quotes yet for this movie.