Ben-Hur
(2016)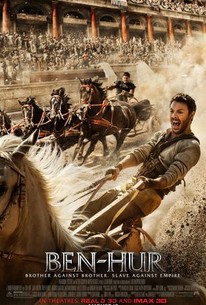 TOMATOMETER
AUDIENCE SCORE
Critic Consensus: How do you fight an idea? By filming a remake that has too few of its own, and tries to cover it up with choppy editing and CGI.
Movie Info
The epic story of Judah Ben-Hur, a prince falsely accused of treason by his adopted brother Messala, an officer in the Roman army. Stripped of his title, separated from his family and the woman he loves, Judah is forced into slavery. After years at sea, Judah returns to his homeland to seek revenge, but an encounter with Jesus leads him to the Crucifixion, where he discovers forgiveness and finds redemption.
News & Interviews for Ben-Hur
Critic Reviews for Ben-Hur
Audience Reviews for Ben-Hur
A new interpretation of the classic Lew Wallace novel, Ben-Hur is a thrilling epic tale of adventure. Two adopted brothers become bitter rivals when one joins the Roman army and is tasked with rooting out rebels in Jerusalem, leading him to sentence his brother to the life of a slave when he's discovered to have harbored a would-be rebel assassin. The performances are pretty good and the production values are extraordinarily well-done, creating an authentic look and feel for the time period. The special effects in particular do an incredible job at creating dynamic action sequences; such as the naval battles and chariot races. But the writing falls short and doesn't take the time to develop the characters or the story all that well. Yet despite its shortcomings, Ben-Hur is an entertaining film with a powerful message about forgiveness and letting go of hate.
Dann Michalski
Super Reviewer
Remake totalmente innecesario. Ben-Hur es una idea que jamas debió de haberse tocado ya que la version de 1959 era perfecta. Además, como puedes hacer un remake que tiene pésimas actuaciones, pésima dirección, pésima edición, pésimo TODO. Da un coraje enorme que estando el cine tan caro se lo desperdicien haciendo estas porquerías. De veras no la vean.
Fernando Martínez Cantú
Super Reviewer
Ben-Hur epitomizes the ill-advised remake that no wanted to see and no wanted to make. It was, truth be told, a film that I looked forward to eviscerating -- an example of Hollywood gone wrong with big budget filmmaking, relying more upon name recognition than actual content or inspiration. And I was completely wrong, as Ben-Hur proves a more solid retelling than anyone anticipated or even deserved. It is spectacular or even great? No. Ben-Hur 2016 wanders into generic modern remake territory occasionally, but what it does it does well. In fact, it sports advantages over its predecessors whether it's the 1886 novel by Lew Wallace, the original 1925 silent film, or the classic and beloved 1959 movie directed by William Wyler. (I am familiar with all of these by the way.) The narrative framework revolves almost entirely upon the friendship and rivalry between Judah Ben-Hur and Messala. In fact, where in previous versions Messala turns into a cartoonish villain as the story progresses, here he remains sympathetic throughout and shares near equal screen time with the protagonist. Furthermore, whereas the galley/naval battle scene was done better in 1959, this version's chariot race may actually end up being my favorite for being incredibly brutal and raising the stakes even higher for its protagonist. Though, I absolutely love how this movie essentially slaps both Ben-Hur and Messala for pursuing a path of egotistical vengeance hung up in macho pride. Lastly, the heavy-handed religious parable that defined the final act of the 1959 version has been toned down in favor of a condensed version that emphasizes the passion story more in terms of personal redemption for our two main leads than the usual religious messaging. Now to where it falls short. William Wyler's 1959 classic sported one of the greatest musical scores of all time. Put it this way - no one is winning an Oscar for best original score here. As said before, much of the film can fall into generic blandness as times, but more troubling is the fact that so much effort goes into the primary relationship of the film, that no other relationship or performance stands out. It also lacks the grandeur of its immediate predecessor, but I suspect that may be intentional, as this is supposed to be a more realistic and grounded approach to the same story we all know. The artistic feat of not showing Christ's face is gone now, with the usual Jesus cameos to keep Ben-Hur hydrated and honest. Oh and Morgan Freeman is so out of place in this movie. He gives it his all, but his dreadlocks prove distracting and his modern affectations are jarring. So is it worth your time? To many this may appear to be attempt to cash in on the faith-based film craze that has happened in recent years and may turn off potential audiences. This is not really the case, and while religious viewers are not turned away, this is more for general audiences. It obviously doesn't compare in quality to what came before, but it does have enough merit to stand on its own and is worth a screening. In fact I view it as an interesting alternate universe take, considering the GIGANTIC twist it plays in the third act. It's a shame that it was saddled with an obnoxious budget and unrealistic expectations. It may prove to be successful overseas and become a cult hit - the John Carter of 2016 if you will. But that's just speculation. So yes give Ben-Hur: A Tale of the Two Brothers a shot. It needs the chance.
Joshua Sheetz
Super Reviewer
Ben-Hur Quotes
There are no approved quotes yet for this movie.