Ben is Back
(2018)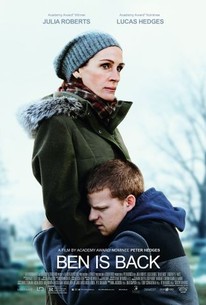 TOMATOMETER
AUDIENCE SCORE
Critic Consensus: Refreshingly understated, Ben Is Back subverts family drama stereotypes - and provides a forum for terrific performances from Lucas Hedges and Julia Roberts.
Movie Info
19 year-old Ben Burns (Lucas Hedges) unexpectedly returns home to his family's suburban home on Christmas Eve morning. Ben's mother, Holly (Julia Roberts), is relieved and welcoming but wary of her son staying clean. Over a turbulent 24 hours, new truths are revealed, and a mother's undying love for her son is tested as she does everything in her power to keep him safe. Ben is Back also stars Courtney B. Vance (The People V. O.J. Simpson: American Crime Story) and Kathryn Newton (Lady Bird).
News & Interviews for Ben is Back
Critic Reviews for Ben is Back
Audience Reviews for Ben is Back
½
Ben is Back is a micro-drama about a drug addict visiting his family on Christmas Eve. He is met with suspicion and hostility, despite his assurances that rehab is working. As tensions start to subside, however, his presence back in town is noticed by his old associates... Ben was written and directed by Peter Hedges and it's clear it was crafted for his son, who stars as the titular troubled young man. Lucas Hedges has to work a tricky balancing act of appearing disturbed without relying on stereotypes or overacting. He succeeds and it's probably the best role he has done, outside of Manchester by the Sea. Julia Roberts likewise underplays as his mother and the movie is more-or-less constructed around their conversations, arguments, and journeys around town. What makes Ben is Back stand out is that it gives a convincing look at addiction and its consequences while avoiding saccharine melodrama. The first two thirds serve as a realistic family piece, while the final act turns into a low-key crime drama, as Ben faces his creditors and his past. I'd argue the lack of sentimental touch is what probably what kept the crowd that usually views holiday-themed Julia Roberts movies away from Ben is Back. Its blunt honesty doomed the picture. A surprisingly good film and an excellent streaming choice.
Joshua Sheetz
Super Reviewer
There are a thousand different statistics out there about the opioid crisis, but within each of those numbers touted about in the "Americans are now more likely to die from opioid overdoses than car crashes" headlines there are also that many individual stories-some of which no doubt share many a similarities-while others exist wholly in their own unique bubble. In Peter Hedges' Ben is Back the writer/director behind such dewy-eyed works of genuine affection like Dan in Real Life and The Odd Life of Timothy Green turns his attention to one such scenario that includes your average middle class, upstate New York family where Julia Roberts is the mom, Holly, with two kids from a previous marriage, the titular Ben played by Hedges' son, Lucas, and the over-achieving daughter, Ivy, as played by Blockers' Kathryn Newton, who has since re-married to Neal (Courtney B. Vance) with whom she has two younger children. The dynamic of the somewhat blended family would stand on solid foundation were it not for Holly's oldest son who became addicted to pain killers at a young age which served as a segue into other drugs and dangerous circles. From the outside, Ben is Back admittedly looks like your run-of-the-mill addiction drama that might pave over the ugly stuff in favor of telling an inspiring story of redemption, but the film is keen on not glossing over certain realities, but instead reinforces the fact that this could ultimately become anyone's reality-even someone who lives in a nice suburban house and participates in the Christmas pageant every year. Surprisingly, this is a film that not only packs in the expected simultaneous beauty and heartbreak that comes with being a parent, but also poses to be something of an authentic thriller with real, raw tension. It's an interestingly structured screenplay that approaches the audience with a simple premise and seemingly average family before unraveling the layers and the complications that come along with those layers-it's really quite impressively done in terms of character definition and development. It doesn't hurt that Roberts is in top dramatic form here as a woman who must constantly walk the line between being this happy mother who is thrilled just to have her son back to that of a mother who is panicked and concerned about what that son might do next; it's as equally harrowing as it is unrelenting. As the film is largely something of a two-hander though, and as someone who hasn't yet completely warmed up to the idea of Lucas Hedges, credible actor, the twenty-two year-old won me over with his ability to also go from having all the confidence and charisma in the world-enough to make his mother believe he's truly made massive improvements after a seventy-seven day stint in rehab, anyway-to that of being this fearful, apologetic little boy that regresses in front of his mother. These pendulum swings in personalities are representative of the journeys each of these characters take and thus are representative of the journey we take in the film. Ben may be back, but more importantly-so is Roberts-and I don't think young Hedges is going anywhere, anytime soon.
Philip Price
Super Reviewer
MOTHER, DRUGS & SPEED - My Review of BEN IS BACK (4 Stars) On the verge of giving up his filmmaking career, Peter Hedges (PIECES OF APRIL, WHAT'S EATING GILBERT GRAPE?) wrote himself out of that hole with the exceptionally moving BEN IS BACK and found himself in the odd position of having to convince his young, Oscar-nominated son Lucas to change his mind and star in his movie. It helped that Julia Roberts, who had already signed onto the film, had also pushed hard for Lucas' participation. Luckily it all worked out as the film features a blazing chemistry between these two actors at the top of their games. Lucas plays Ben Burns, who surprises his family by taking an early leave from rehab and appearing at their doorstep at Christmas time. While his mother Holly (Roberts) appears overjoyed, her daughter Ivy (Kathryn Newton) and second husband Neal (Courtney B. Vance) show much more trepidation. Hedges economically doles out pieces of their history, enough to get the idea that Ben has a ruinous past and hasn't earned back their trust. Even Holly hides away the prescription medications in her bathroom cabinet. The first act of the film plays with the push-pull of the relationships, offering moments of levity which turn on a dime into heightened emotions. It's like an episode of THIS IS US, but with rawer camera work and, of course, two lead performances filled with a lived-in urgency. Around the halfway mark, however, the film turns into a ticking clock thriller of sorts, with the Burns' home ransacked and their family dog missing. Imagine the movie GOOD TIME with Robert Pattinson, which like this was also told in real time, married to the famous SAVE THE CAT concept. Holly, refusing to abandon Ben, follows him into the heart of darkness to find their pooch and show she will never give up on her son. Their journey takes them into a pawn shop, a drug den and even a the doorstep of a school teacher who did not have Ben's best interests in mind. It's scary stuff, but I do wish the gay intimations here, which include pedophilia, didn't make Holly puke. Can we please retire this offensive trope? I say this because BEN IS BACK has power to spare, and I hate to see a questionable choice cloud anyone's experience. I've long maintained that actors like Roberts and Sandra Bullock have excelled in these current phases of their careers where they get to tap into their anger. Roberts, who opens the film with her beatific smile, soon drops the facade to give one of her career best performances. She tears through this role with passion, intensity and fury. A scene in which Ben jokingly (or maybe not) asks why his mother didn't check his shoes for drugs. On the other side of a dressing room door, Roberts brilliantly goes from a humorous reaction to sheer panic, the whole history of her fraught relationship with her son splayed out before us. She plays one ferocious mother. Lucas, for his part, navigates his tricky role so well, going from confidence to self-loathing in the blink of an eye. What could have been a throwaway reaction shot of him watching his sister sing in church becomes aa perfect study of pride, guilt and empathy in the span of a few seconds. Although every moment of this film contains a high level of dread, you come to care for this mother and son so deeply and urgently. Although I could quibble with some plot mechanics toward the end, especially the ease with which one character obtains something from a drive-thru pharmacy, but so much care has gone into investing in these characters, that, like Holly herself, I would follow Ben anywhere. Peter Hedges has taken what could have been a tiny, indie about addiction and put the audience on the edge of their seats. You find yourself caring for Ben while never quite trusting him and never quite knowing his end game. Coming from a family which struggled with addiction, Hedges knows firsthand exactly how to articulate the confusion, the false hope, and the agony of it all. He proved in PIECES OF APRIL how to succeed with a real time structure, but with BEN IS BACK, he knows it can also make you care, make you cry, and make you forget to breathe.
Glenn Gaylord
Super Reviewer
Ben is Back Quotes
There are no approved quotes yet for this movie.