Bend of the River
(1952)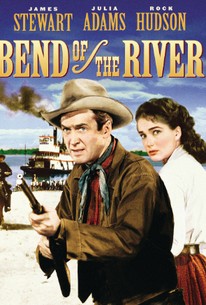 Movie Info
In this film, James Stewart stars as a former outlaw, now working as trail guide for a group of Oregon-bound farmers. He is aided in this endeavor by a far-from-reformed horse thief. Upon arriving in Portland, Stewart gets in the middle of a scam operated by trader Howard Petrie.
Critic Reviews for Bend of the River
Audience Reviews for Bend of the River
one of the greatest of the stewart/mann westerns. arthur kennedy is really great here as a slippery outlaw with a twinkle in his eye
Stella Dallas
Super Reviewer
½
The second and most visually breathtaking of the Anthony Mann/James Stewart westerns. In this one, Jimmy plays a former Missouri border raider guiding a wagon train of intrepid farmers up to Oregon, where he hopes to bury his past and start a new life as a rancher. Depicting the settlers' journey as the kind of long, hard slog usually reserved for a Werner Herzog movie, it is astonishing how much action and adventure Mann manages to cram into these 90 minutes. The core of the movie, however, is the uneasy but mutually respectful friendship between Stewart and Arthur Kennedy, a fellow border raider Jimmy rescues from a lynch mob. The script cleverly uses Kennedy, who is much less eager to reform than Stewart, to illustrate the kind of a man Jimmy must once have been, and the crueller side of his nature he is desperately fighting to suppress. The only real weakness here is Rock Hudson's character, a callow professional gambler standing at a crossroads between a virtuous or a wicked path in life (Stewart's or Kennedy's). I can see why he's in the picture but he's not really given anything to do, and you'll notice that Hudson is always conveniently out of the way whenever Stewart and Kennedy butt heads, presumably to defer his taking of a side for as long as possible.
Furious! One great western. Apparently, the road to redemption involves kicking all kinds of ass.
Bob Stinson
Super Reviewer
Bend of the River Quotes
There are no approved quotes yet for this movie.