Beneath
(2007)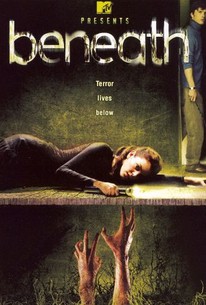 AUDIENCE SCORE
Critic Consensus: No consensus yet.
Movie Info
Nora Zehetner, Gabrielle Rose, and Matthew Settle co-star in the direct-to-video horror picture Beneath. The film concerns Christy, a sweet-natured and open-faced young girl who hearkens back to her small-town years after an ugly automobile accident. In that incident, Christy -- as the driver -- caused a wreck that terribly disfigured her older sister. Still traumatized by these events, Christy also suffers from morose apocalyptic visions that seem to be harbingers of future destruction. She must now do everything in her power to prevent the nightmares from materializing.
Critic Reviews for Beneath
Audience Reviews for Beneath
½
Oh, this was a creepy movie with twist and turns and full of suspense. Keeps you at the edge of your seat. I wouldn't call it horror, but it was a creepy thriller.
Donna Dawson
Super Reviewer
This movie is a part of mystery-thriller and spooky by discovering the truth from the prophetic visions by a youngster sister after her older sister's death. And I saw what director and editor made plenty of mistakes in the scenes of Christy (Nora Zehetner) wearing with or without a bag between before and after while filming in the house and cabin.
Dean McKenna
Super Reviewer