Bereavement
(2011)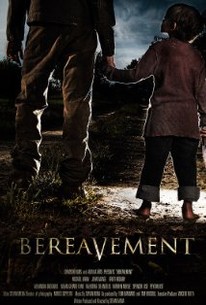 Movie Info
n 1989, six year old Martin Bristoll was kidnapped from his backyard swing in Minersville Pennsylvania. Graham Sutter, a psychotic recluse, kept Martin imprisoned on his derelict pig farm, forcing him to witness and participate in unspeakable horrors. Chosen at random, his victim's screams were drowned out by the rural countryside. For five years, Martin's whereabouts have remained a mystery, until 17 year old Allison Miller (Alexandra Daddario) comes to live with her Uncle, Jonathan (Michael Biehn). While exploring her new surroundings, Allison discovers things aren't quite right at the farmhouse down the road. Her curiosity disturbs a hornet's nest of evil and despair that once torn open, can never be closed. -- (C) Official Site
News & Interviews for Bereavement
Critic Reviews for Bereavement
Audience Reviews for Bereavement
½
A small improvement over 2003's Malevolence, with more interesting characters and slightly better acting. Bereavement will satisfy die hard horror fans as a run of the mill gory slasher flick, but there's nothing here to attract anyone else, especially in the way of logic or an interesting narrative.
Edward Boxler
Super Reviewer
While I do think the film makes effective use of its atmosphere, for the most part, and it is well made with some solid cinematography, ultimately this movie did absolutely nothing for me. The main reason I didn't enjoy this movie was that there wasn't really a reason for anything that was happening. Of course if you're arguing for a more believable story, you could pull out the 'well, things in life happen for no reason sometimes'. And I think movies can get away with this if they're told effectively and you're at least having fun watching the movie, but when you're not really given a reason to invest in the characters or invest in the story, it makes it that much more of a chore to sit through. They do reveal some reasoning for what's happening at the end, but by this point you don't really care because everything has felt pointless. There's some cool visuals here and there, but that's not really enough to overcome the formulaic and uninteresting script that's chock full of cliches. Ultimately the film boils down to a slasher/evil kid horror genre. I do think there's an interesting concept here with the child being a murderer and whether that's due to his genetics or the environment he has found himself in for over 5 years. And I think the film tries to show that it is a combination of both things, such as it is in real life, that have made him the way he is. The fact that he cannot feel any kind of pain puts the idea in his mind that everyone must be like him, unable to feel anything and the fact that he's been raised by a homicidal maniac helps guide those thoughts in the kid's mind to its most extreme. And I thought that was actually a really cool aspect of the movie, an aspect of the movie you wouldn't pick up on if there wasn't a scene at the school where a teacher is discussing this same exact subject. Whether environment or genetics has an effect on how someone turns out. It's like they just STUMBLED onto this theme by accident and felt the need to point it out in one scene so they don't look completely clueless. It doesn't seem like something that was thought and planned out before the script was even written. It may have actually been intended, but it doesn't come across that way in the final product. And it's not like they do much with this concept, it's like they just PUT the idea into your mind, rather than doing something with it. Again if you don't remember that scene, you would miss an important part of Martin's development and a large reason for why he is the way he is. It's far more thought out than your typical 'evil child' nonsense. Regardless, it's not like THIS makes the movie really worth sitting through for an hour and 45 minutes of an uninteresting story that's more a chore than anything else. There's still some good ideas here, though and some cool visuals. But they're not enough to raise the movie from its slightly below average state.
Jesse Ortega
Super Reviewer
"Brought home a boy from the valley. He's young enough to learn the business my way." This recent entry in the "small town psychopathic serial killer" genre isn't exactly a game-changer and it doesn't try to be that scary, but it is a tense, nasty affair that will probably appeal to some horror fans. We've got out deranged killer that preys on young women, a young boy he kidnaps to "assist" him, and a new arrival from out of town (Alexandra Dadarrio) that enjoys taking long runs alone that just happen to pass by a sinister looking and isolated rundown meat-packing plant. If you're guessing that's a recipe for blood, brutality and death, then you're right. Bereavement is fine for what it is, but I doubt I'll be compelled to watch it more than once. There's nothing really exceptional about it, though some of the outdoor cinematography is beautiful, there's a concentrated effort to give depth and a back-story to most of the main characters, and Alexandra is undoubtedly nice eye candy (if there was an Academy Award for filling out a halter top, she'd have it in the bag). The bottom line, though, is that this is such a thoroughly bleak movie that it's almost too realistically grim and hopeless to find entertainment in. That's not necessarily a "flaw", but it's definitely something some viewers will respond less favorably to than others. Oh, and I don't think I've heard this much screaming in a film in quite a while. Have your ears prepared to be assaulted.
Bereavement Quotes
There are no approved quotes yet for this movie.