Berlin Express
(1948)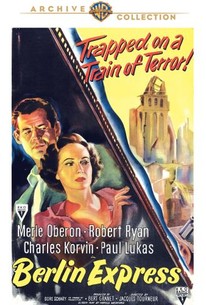 AUDIENCE SCORE
Critic Consensus: No consensus yet.
Movie Info
On a trip from France to Allied-occupied Berlin, a group of travelers -- a mysterious and very secretive European woman (Merle Oberon), an American agricultural expert (Robert Ryan), a British educator (Robert Coote), a Soviet Army officer (Roman Toporow), and a French official (Charles Korvin) -- all cross paths in the cramped quarters of a military train. They discover that the notion of the "Allied forces" is breaking down amid their victory in the war; they neither like nor trust each other, nor each other's countries, except where the Germans are concerned, where they share a distrust. And then they cross paths with a German VIP who makes them wonder if they've got all of the Germans pegged right. A bomb goes off, killing their newfound acquaintance, and the suspicions start anew. The mystery surrounding the victim only deepens when they discover that he wasn't who he claimed to be -- and that the army isn't saying who he was. Ryan, Oberon, et al. soon find themselves up to their necks in unrepentant Nazis and militant German nationalists who have banded together against the occupiers to destroy any chance of success for a peace plan being put forward by a visionary German (Paul Lukas). They find Frankfurt a hotbed of sabotage and armed underground resistance, with the occupying armies seemingly caught flat-footed by the plotting in their midst, which includes murder and blackmail. Berlin Express is a spellbinding mix of action, suspense, and topical political intrigue, laced with idealism and a surprising degree of sophistication, a level a wit almost worthy of Graham Greene, and an eye for suspense worthy of Hitchcock. Indeed, the film could almost be considered director Jacques Tourneur's postwar equivalent to Hitchcock's Foreign Correspondent (1940). It also represents a fascinating cultural snapshot, depicting the very last moments of hope for peaceful relations with the Soviets that could be seen in American movies for decades.
Critic Reviews for Berlin Express
Audience Reviews for Berlin Express
½
The first half of the film is terribly uneven with the worst mono tone narration put to the screen. The narration describes what is being said on the screen instead of allowing the story to be told with subtitles.
Brendan O'Connor
Super Reviewer
That stupid and completely un-cinematic voice over kills the entire first half of an otherwise stunning looking thriller by a master filmmaker who loved shadows and camera angles.
Pierluigi Puccini
Super Reviewer
I have not seen too many 1948 movies. Most interesting thing about this movie is that it seems they used actual footage of bombed out Frankfurt and Berlin as backdrops to the movie. The movie is quite idealistic - five people from five different countries try to rescue a German peacemaker just after WWII.
Berlin Express Quotes
There are no approved quotes yet for this movie.