Berserk
(1967)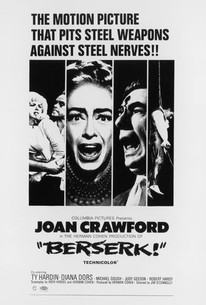 AUDIENCE SCORE
Critic Consensus: No consensus yet.
Movie Info
One of the lower points of Joan Crawford's latter-day career curve (though nothing to compare with the later embarrassment of Trog!), this lurid, low-rent thriller nevertheless gives Crawford the opportunity to chew acres of scenery in a campy Marlene Dietrich-style get-up. She portrays the ringmaster of a cheesy traveling circus troupe whose stars are being whacked in a variety of flamboyant ways (many of which are depicted in the garish trailer, particularly Michael Gough's spike-in-the-head scene). Despite the exploitation potential in this lurid Grand Guignol scenario, this film is fairly light on scares or gore -- and far too heavy on circus stock footage. A sequel of sorts to producer Herman Cohen's Horrors of the Black Museum, this one is a slight improvement, thanks to Crawford's outrageous, over-the-top performance. ~ Cavett Binion, Rovi
Critic Reviews for Berserk
Audience Reviews for Berserk
Filled with more circus extravaganza than actual horror. Berserk is a campy murder mystery that left its audience going "berserk" with the ending.
Sylvester Kuo
Super Reviewer
½
Well, I did like the dwarf.
Eric Broome
Super Reviewer
matricide was a highly popularized cinematic trend since hitchcock's psycho in 1960s, which surely has been ensued with a series of campy parodies, such as william castle's "homicide" and his collaboration with joan crawford in "straight-jacket"..crawford in her older days was ripe for such matricide-related exploitation, don't audience just have the impulsion to slog her for being so un-apologetically complacent and egoistic while acting like a mean, rich and powerful bitch with a desperate grasp of youth? don't you just love to hate her or hate to love her? naturally all those attributes make her the ideal prospect in such material like "berserk." it's story about a businesswoman who owns a circus, and all of a sudden, the members of her crew are murdered drastically one by one during the public exhibitions. she dates a man who seems young enough to be her son while her daughter returns for being dispelled by the boarding school. (crawford's movies in this period tend to have a certain parallel to her real-life relationship with her daughter)..at last, the truth is revelt and not hard to guess at all: it is her daughter who murders those people due to her grudges against mom and she has to destroy the circus to ease off the envious hatred. sorta like "straight-jacker," which has a slightly better sense of suspense despite its blatant cheesiness, but the scriptor of "straight-jacket" is the same one from "psycho." recently i'm reading a cultural-study book about the symbolic matricide within the temperament of american ethnology as well as american pop culture, the idea of personal property and the highly emphasized individuality (clint eastwood says in the amc channel commercial "i have a reverence for individuality") so each person has to leave his/her parents, particularly mother, as long as the puberty passes. "seperation and individuation" are the key terms for such symptom, and mother figure's inclined to get portrayed in a negative light of effeminatibng or victimizing the offsprings, contrary to the oriental system of family adherence. i assume such dread for the overpower of phallic mothers has created a food line for aged hollywood icons as well as a misogynist mythology of all those joan-loathing craps within american subcultures. everything about berserk is predictably corny to invite sneering laughters, but it's exactly the charm of it, isn't it? if you expect to be shocked or get good-quality actings and decently stylish camera angle just by watching the trailer, then i must say: you were just hatched yesterday. come on, it's a camp, it's supposed to be terrificly and shamelessly BAD with a reckless smug. stop bitching about it and giving it a poor rating. (lol.) (ps) but i've got to pay compliment to miss joan's wardrobe, which is actually not awful (the green suit with layers of jade-color pearls is my fav, so outrageously flashy), it bares her still-quite-in-shape legs very well, and i bet that a 60-something joan still has much better legs than lots of young girls in my age. hehe. don't you just love such killer queen? huh?
Veronique Kwak
Super Reviewer
Berserk Quotes
There are no approved quotes yet for this movie.