Best Friends
(1982)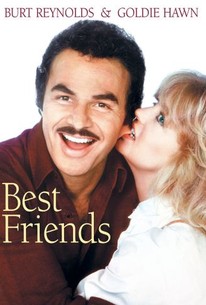 Movie Info
We'd rather not speculate over how much of Best Friends is autobiographical. We'll just note that this story of a male-female screenwriting team was written by real-life married scenarists Barry Levinson and Valerie Curtin. Lovers as well as collaborators, scriveners Richard Babson (Burt Reynolds) and Paula McCullen (Goldie Hawn) decide to make their union legal. Predictably enough, they discover that their relationship goes straight downhill after they say "I do." The stars are far less interesting than the supporting cast, including Jessica Tandy and Barnard Hughes as Hawn's parents, Audra Lindley and Keenan Wynn as Reynolds' folks, Ron Silver as an avaricious producer (no names, please!), and Richard Libertini as a Mexican justice of the peace.
Critic Reviews for Best Friends
Audience Reviews for Best Friends
An okay realistic family drama movie about marriage. If you ask me, it's too realistic, so much so that it's boring. Overall it's okay, though.
It wasn't a comedy, and it wasn't quite a drama. It was more like one large depression spiral of how two people can ultimately make each other unhappy no matter what they do. The music, which was Oscar nominated, was so sappy and 80's tinted that it drove me bananas, and Burt Reynolds was not his usual self confident self, but some tame invalid. Overall, it was very disappointing.
Spencer S.
Super Reviewer
Best Friends Quotes
There are no approved quotes yet for this movie.