The Best Little Whorehouse in Texas
(1982)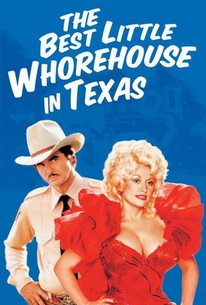 The Best Little Whorehouse in Texas Videos
The Best Little Whorehouse in Texas Photos
Movie Info
In this filmization of the hit Broadway musical, a popular brothel is threatened with a shutdown by Texas authorities. Burt Reynolds plays the Sheriff, while Dolly Parton portrays the Chicken Ranch madam. While this film has its moments, it never reaches the entertainment heights of its stage predecessor. ~ Iotis Erlewine, Rovi
Critic Reviews for The Best Little Whorehouse in Texas
Audience Reviews for The Best Little Whorehouse in Texas
½
This musical might not have the best songs in the world, and doesn't show it's subject matter in a believable or realistic light, but it sure is fun and entertaining. Reynolds and Parton are a fantastic couple onscreen, as surprising as it sounds. The rest of the cast is made up of funny people and great dancers. The ending was the best part for me, it was the most realistic part of the movie and very emotional.
First off, this film is in no way perfect. It's actually quite mind boggling if you watch it, because you sincerely wonder what the thought process was behind making this film. It isn't a bad concept or even a less than entertaining one, but it's just so haphazard and deliberately strange that to put it on the big screen doesn't make any sense, to me at least. This film pulled in the most money at the box office for a musical in the eighties, and led to an Oscar nomination for Charles Durning as the Texan Governor. It features the incomparable voice of Dolly Parton, who wrote several songs herself, including her already highly lauded "I Will Always Love You," later to be covered by Whitney Houston in The Body Guard. The songs are pretty catchy and it's very enjoyable to see some down home Southern stereotypes milked to showcase the same airy performances we've seen a thousand times already. What isn't enjoyable is the casting for some of these parts. Burt Reynolds singing alongside a Madame while only wearing a blanket as a bottom? Bandit, you're better than that. And Dom DeLuise what in tarnation were you thinking? Wearing a bowl cut wig, and cha-chaing around in the most obscene outfits while singing about promiscuity? You belong in a Mel Brooks film, sticking out your tush and cha-chaing there! The only person perfectly suited seems to be Jim Nabors as a cloddish sheriff's deputy reminiscent of Barney Fife. Durning gives a very off color and yet highly entertaining turn as the governor but didn't deserve an Oscar nomination for his less than ten minutes screen time. I think the Academy was just surprised to see the negotiator from Dog Day Afternoon sing about corruption and dance a little side step. What is truly strange is the use of sex as a vehicle to move the plot along, though it's pretty tame when it comes to the music and showing the town of simple Southern folk in contrast. There could have been a lot subtler and less errant ways of showing promiscuity and prostitution than throwing in several shots of the women's bits as it were. Even more troubling is that though they do go the distance with the nudity it ends in a morality tale, which is so bedrift of sense that it ends remotely anticlimactic. It's not the worst musical ever, but it's a pain to sit through; Sodom and Gomorrah it is not.
Spencer S.
Super Reviewer
Despite being around 7 years old when I first watched this film (and not completely understanding all of it's contents) I watched this film over and over and fell in love with the costumes (how naive? ha ha). Country music isn't particular my thing, but this film is fun and I still remember pretty much every word throughout the film (yes, I was an even worse film addict as a kid). I have to rate this film fairly high, the nostalgia's sake.
Lady D'arbanville
Super Reviewer
The Best Little Whorehouse in Texas Quotes
| | |
| --- | --- |
| Mona Stangely: | Ed Earl, I think the best thing to do is to put this behind us, just as quick as we can. I've made a little money, I've laughed some, I've danced to the music... it's just time to pay the fiddler, that's all. |
| | |
| --- | --- |
| Deputy Fred: | My wife read his lips on every "Hell", "Goddamn" and "Shit". |
| | |
| --- | --- |
| Deputy Fred: | If you grew up anywhere in Texas, you knew at an early age that they were sellin' somethin' out there - and it wasn't poultry! |
| | |
| --- | --- |
| Mona Stangely: | Well! Fine! Then I'm gettin' dressed and goin' home! |
| Sheriff Ed Earl Dodd: | Well! Fine! I'm goin' into the bathroom and... put this on. |