Best Men
(1998)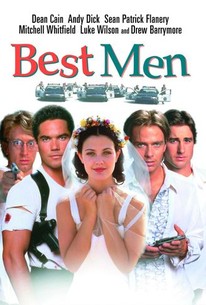 Movie Info
Former music-video director Tamra Davis (Guncrazy) created strong characters in this bank-robbery tale, a crime/comedy/drama somewhat reminiscent of the anti-establishment attitudes seen in early '70s films. After three years in a California prison, Jesse (Luke Wilson) is ready to marry his girlfriend Hope (Drew Barrymore) in the town of Independence (the original working title of this film). Joining Jesse is a odd assortment -- the buzzcut ex-Green-Beret Buzz (Dean Cain); ex-lawyer Sol (Mitchell Whitfield); geeky Teddy (Andy Dick); and Shakespeare-quoting Billy (Sean Patrick Flanery), aka Hamlet on the FBI's most-wanted list. Then they're off to the wedding. Billy, however, asks to be dropped off at a nearby bank, and after it's evident that Billy is pulling off another Hamlet heist, the others join him inside. Billy's father, Sheriff Phillips (Fred Ward), up for re-election, begins hostage negotiations, but the media arrives, along with psycho FBI agent Hoover (Raymond J. Barry) and his partner Carter (Art Edler Brown). Wearing her wedding dress, Hope goes inside the bank. Soon various friends and locals gather outside to offer support as the hostages take the side of their captors. In addition to portraying agent Carter, Art Edler Brown is the film's co-producer and co-scripter.
Critic Reviews for Best Men
All Critics (8) | Fresh (1) | Rotten (7) | DVD (1)
The ending is a little too neat and tidy, but as far as straight-to-video talk-fests go, Best Men's worth a look.
Fairly witless romantic heist comedy combo.
July 26, 2002 | Rating: 2/5
Audience Reviews for Best Men
½
As if Drew Barrymore's wedding day weren't stressful enough, bride-to-be Luke Wilson must contend with her intnded being an ex-con who can't pass up the opportunity to rob a bank. Unbeknownst to Hope and his friends, Sean Patrick Flanery is "Hamlet", a Robin Hood-like robber who picks the day of his wedding for his latest heist. Quirky character comedy succeeds, thanks to a winning cast, spirited direction and a script that never plays dumb.
Dean McKenna
Super Reviewer