Best Seller
(1987)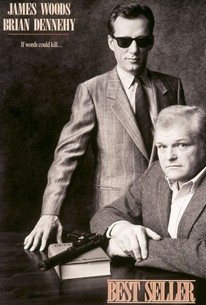 Movie Info
Brian Dennehy plays a Wambaugh-type cop who has flourished as a novelist. At the moment, however, Dennehy is suffering from a profound case of writer's block. Coming to the rescue, as it were, is professional hit man James Woods. Recently dumped by his boss, above-suspicion business executive Paul Shenar, Woods is anxious to tell his life story to Dennehy, in hopes of striking it rich with a tell-all bestseller. Shenar, however, takes a dim view of Woods' indiscretions, and for a while it looks as though it's curtains for both Dennehy and his teenaged daughter Allison Balson. Screenwriter Larry Cohen has claimed that Best Seller was based on Strangers on a Train. ~ Hal Erickson, Rovi
Critic Reviews for Best Seller
Audience Reviews for Best Seller
½
Best Seller is a stunning well crafted dramatic thriller that boasts a strong cast and great directing from director John Flynn. James Woods gives a blistering performance as Cleve a contract killer who tells his story to Dennis Meechum, a cop and true crime author. Meechum is also very well acted by Brian Dennehy. This is a well constructed film that is highly engaging from start to finish. The plot is very engaging and in the end it delivers a cat and mouse angle to the plot which is riveting. James Woods' performance alone makes this film worth seeing and he is simply psychotic with a certain charm that adds a lot to the film. Of course the film could have been better and it does fall flat in a few areas. For the most part however, Best Seller is a very good picture that showcases two standout actors at their best. I really liked the conflict that Dennehy brought to the role as he tries to balance the author and the cop part of himself. Best Seller has its flaws, but due to a very good script, it manages to overcome its shortcomings and deliver something quite memorable. This is a film that didn't deserve the flack it has received and it is one of the better dramatic thrillers of the latter half of the 1980's. Best Seller is a film worth checking out and is definitely a film that the critics were wrong about. The performances are great and with that being said, it's what makes this one standout above other movies in this caliber. Don't believe the critics, if you love James Woods, you'll surely enjoy this. Far from perfect, but it is nonetheless a well constructed picture that will grab your attention from the first frame onwards.
½
Another underrated gem from the 80s.
Best Seller Quotes
There are no approved quotes yet for this movie.