The Betrayed
(2008)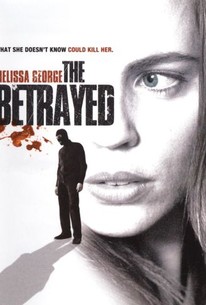 AUDIENCE SCORE
Critic Consensus: No consensus yet.
Movie Info
A young mother struggles to ensure a safe homecoming for her kidnapped son by helping her captors locate millions of dollars in stolen cash. Awakening in a dark room after being knocked unconscious in a car accident, Jamie Taylor (Melissa George) instantly realizes that her son is gone. She's been kidnapped, and so has he. But Jamie's captor (Oded Fehr) isn't interested in collecting a ransom; he needs her to help his mysterious employers recover a sizable sum that was stolen from them by her husband, who, unbeknownst to Jamie, is a very dangerous man. The heavies in charge believe that Jamie may be the only one capable of helping them locate their loot, but now that her life has been upended she isn't sure who or what to believe anymore. The only thing Jamie knows is that she wants her son back, and in order to make that happen she will attempt to sort out the clues of the life she only thought she knew.
Critic Reviews for The Betrayed
Audience Reviews for The Betrayed
½
This is what I'd call a big W.O.T. - a waste o' time. At this stage in her career, Melissa George is an accomplished actress who is much better than starring in a one-room play with minimal suspense that tries to Reservoir Dog the ending. Writer/director Amanda Gusack spends time filming a few artistic shots of urban decay in a warehouse presumably to enter in a state fair competition when she should have been redrafting her script a half-dozen more times.
Doctor Strangeblog
Super Reviewer
Jamie (Melissa George) is an average housewife who finds herself kidnapped by a mysterious masked man Alek (Oded Fehr) and imprisoned in a warehouse. Jamie is roughed up and her captor tells her that her husband is not who she thinks he is, but an assassin who is on the run from a crime syndicate after having stolen mob money totaling about 40 million dollars. The kidnappers have also taken her six year old son Michael (Connor Christopher Levins), who is diabetic and needs constant attention. Jamie soon agrees to work with the kidnappers to uncover her husband's secrets in order to save her son. The inclusion of a few genuinely exciting sequences as Jamie races against time to successfully complete a money transfer cements the movie's place as a slow-going yet satisfying endeavor (although magnetic cassette tapes seem really low-tech for international espionage, especially considering Jamie's brilliant work with the computer.)
½
Your typical thriller. One of those see it or not movies, it won't change your life either way.
Curtis Lilly
Super Reviewer
The Betrayed Quotes
There are no approved quotes yet for this movie.