Better Luck Tomorrow
(2002)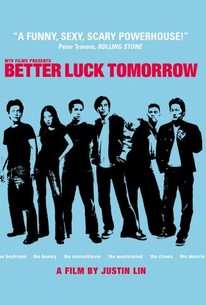 Better Luck Tomorrow Photos
Movie Info
A group of unlikely high school students take up crime as an extracurricular activity in this independent drama. Ben (Parry Shen) is a 16-year-old high school student who is the living embodiment of the stereotypical Asian overachiever. Ben obsessively studies even though he gets straight A's, takes part in a dizzying variety of school activities and community volunteer work, which he thinks will look good on his resume to colleges, and is even a member of the basketball team, even though he spends most of the season riding the pine. Ben also hopes being part of the team will help him win the heart of Stephanie Vandergosh (Karin Anna Cheung), a cute but equally obsessive girl who is on the cheerleading squad. When the big man on campus, Daric (Roger Fan), publishes an article in the school newspaper that points out Ben's true role on the team is to add a touch of ethnic diversity to satisfy Board of Education requirements, Ben is so embarrassed he quits the team and imagines his academic future going up in smoke. Daric seizes the opportunity to propose that he and Ben go into business, creating and selling detailed cheat sheets for school tests and placement exams. The cheat sheets are an immediate hit, and soon Ben and Daric advance to other forms of low-level crime, including drug dealing and fencing stolen goods. Before long, Ben and Daric are joined by a handful of friends -- Ben's close friend and part-time kleptomaniac Virgil (Jason Tobin), Hong Kong gangster wannabe Han (Sung Kang), and Steve (John Cho), a kid from a wealthy family who happens to be dating Stephanie -- but they soon find themselves moving deeper into the criminal underworld than they ever anticipated, and things get ugly when they try to move on. Better Luck Tomorrow was enthusiastically received in its screenings at the 2002 Sundance Film Festival.
News & Interviews for Better Luck Tomorrow
Critic Reviews for Better Luck Tomorrow
Audience Reviews for Better Luck Tomorrow
½
This was Justin Lin's first time directing a feature alone, and I must say, "Better Luck Tomorrow" has some of the most genius camerawork and editing techniques that I have seen in a long time. As we follow Ben and his friends as they are nearing the end of high school, they are succumbed to the evil underground dealing and stealing. With just the right amount of characterization, the cast in this film pull off performances that feel more real than anything. Sung Kang plays the role of Han (one of Ben's friends), and it is obvious that Justin Lin planned to bring his character (with a few tweaks mind you) into the "Fas & Furious" franchise. Hard decisions are made by the characters throughout the film and the tone will make you feel sick to your stomach at times, but it will all be worth it. This is probably one of the best independent films of the 2000's for sure. I loved it!
Now this is how you make an independent movie! Completely original, trippy, and clever satire about Asian kids who can get away with anything as long as it looks like they've conformed to society's general stereotypes of their race. Director Justin Lin has a master's command of the camera and the story he's telling. He also allows his actors to look like true movie stars, even though most of the audience may have never seem them before (except for John Cho). It just sucks that now, eight years after this movie's initial release, Lin has become a corporate tool making godawful Fast and Furious movies. The soul behind Better Luck Tomorrow is the soul of a true auteur.
Edward Boxler
Super Reviewer
½
As the first film by director Lin, the title could be used for his next film, as this film shows that he has promise, but is still a bit rough around the edges. The film takes us inside the Asian community, showing us a group of smart Asian high school kids who know the drill of grades = college = success, but are bored and not challenged by our current sad state of education. The main charactor is slowly brought into a web of crime, first by getting paid for creating cheat sheets, and then later getting into larcenty and finally, as things escalate and the Asian "gang of four's" reputation grows, into narcotics. At the center of the film is an Asian cheerleader who is dating Jon Cho (Sulu in the Trek remake). Cho, who disperses drugs and wisdom to the main charactor, for some reason (never fully explained) abhors all the high school melodrama, so coerces the main charactor into taking the cheerleader to a dance. It's obvious that the main charactor and the cheerleader have feelings for each other, and yet, again unexplained, the cheerleader seems somehow bound to Cho. The plot ramps up and there's an interesting twist (which could have been presented better) and then a final resolution that leaves several plates still spinning (kind of like life). Throughout the film there are several cinematic camera tricks, which hit the mark about half the time (and are annoying the other half), and overall the performances of the cast are good, though I thought that the cheerleader's portrayal was a bit uneven, perhaps due to the script that had her alternatevely playing hot and cold. The film also includes a trip to Vegas, which, while I found amusing, I also felt was totally superflous to the plot and felt tacked on (as if "hey, we need another ten minutes of film time"). I also found the Vegas scenes with the four amigos at the gaming tables to be absurd - Only one of the four could possibly pass for 21, so the scene rang very false. Yet, for the intelligent expose into teen life, and perhaps for a look behind the curtain at those 4.0 GPA Asians, this film was worth watching.
paul sandberg
Super Reviewer
Better Luck Tomorrow Quotes