A Better Tomorrow
(2010)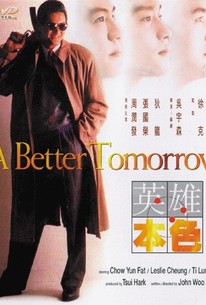 Movie Info
John Woo established himself as one of Hong Kong's premiere action directors with this ultra-hip, ultra-violent action classic. The film centers around the complex relationship between two brothers: Sung Tse-kit (Leslie Cheung) is a recent graduate of the police academy while Tse-ho (Ti Lung) runs a massive counterfeiting ring along with his gangland associate, Mark Lee (Chow Yun-fat). Tension between the two brothers comes to a head when their father is murdered after a crime deal goes sour and Tse-ho lands in jail after being double-crossed. In perhaps the most influential scene in Hong Kong cinema in the 1980s, Mark avenges his friend by staging a dinner table assassination. As Mark tries to shoot his way out of the restaurant, pulling a series of hidden pistols from potted plants and alcoves, he gets horribly injured. With both founding members of the counterfeiting syndicate incapacitated, the operation falls into the hands of Shing (Waise Lee Chi-hung), Tse-ho's former underling who has little of his boss' élan or experience. When Tse-ho gets out of jail, he reunites with his now-crippled comrade, Mark, to take out Shing and to protect Tse-kit whose life is in danger for investigating their former subordinate. ~ Jonathan Crow, Rovi
Critic Reviews for A Better Tomorrow
Audience Reviews for A Better Tomorrow
½
Who could had imagine, way back in the 80's, that this would be the beginning of the revolution of the action genre as we know it these days. Sure, peckinpah was already doing slow mo shootouts before this, but Woo just took it to a whole different level. The film hasn't aged so well, and the usual HK melodrama can get way too heavy in some parts. Woo would later top himself with both The Killer and Hard Boiled, but it can't be denied the importance this film had on the genre. Also, for making Chow Yun Fat one of the most recognizable icons of the genre. Boy do i miss the days of the heroic bloodshed.
Tsubaki Sanjuro
Super Reviewer
An unstoppably explosive and magnificent action classic.A masterpiece of bullet-riddled carnage and mayhem that truly rocks from start to finish. An exhilarating action-packed thriller that's intensely powerful and emotionally enduring. A breathtaking and unforgettable movie.
Classic! One of John Woo and Tsui Hark's earliest hits, this was when gun fu was becoming what it is. Though it wasn't perfected yet, this was an operatic drama of brotherhood, family, blood and crime, one of premier gangster films. The story revolved around two borthers, Kit, a cop, and Ho, an underworld figure. The older brother, Ho, makes a promise to his father to leave behind his life so that he and Kitwould not cross paths. But when he and his best friend, Mark, are betrayed, he suddenly finds himself in prison, his father killed by an assassin, his life in ruins. When finally released, Kit rejects him and threatens to imprison him and his old gang, disbelieving any attempt to lead an honest life. On the other hand, Kit is also chasing after Shing, who betrayed Ho before, who is know a Kingpin. Reuniting with Mark who was also rejected by the gangs, they set out for revenge and to regain their dignity, and save Kit from being killed. Simple and straightforward, dont expect the mass of violence and bullets as we are accustomed to in Woo's work... this was the prelude to the masterpieces of The Killer and Hard Boiled - but more storytelling than gun fighting, which is due to Hark's genius in creatvity. The story revolved around the oppurtunity of a second chance, the search for a better life and the importance of family and brotherhood. This is one of Chow Yun's breathrough roles, a classic figure who's charm and style was a winner on the screen, playing a crippled but deadly gunman. Watch this if you are a fan of Woo or Hark, or the series or Chow Yun. Or if you just like a good gangster film.
A Better Tomorrow Quotes
There are no approved quotes yet for this movie.